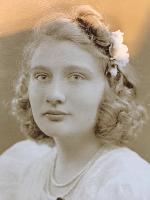 Gladys I. Dirnberger
Gladys Dirnberger, 88, formerly of Whitehouse Station, NJ died on May 1, 2017 at the Country Arch Care Center in Pittstown, NJ. Born in the Bronx, NY, she was the daughter of the late John and Bertha Dirnberger. Moving to Whitehouse Station, NJ in 1945, Gladys graduated from Califon Borough public school in 1947.
Ms. Dirnberger was employed as an Office Manager, working many years for Ethicon, a Johnson and Johnson company.
Arrangements will be held privately at the family plot in Calvary Cemetery, Queens NY under the care of Martin Funeral Home, Clinton NJ. To share a memory or to write a condolence please visit www.martinfh.com.