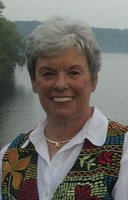 Joan Anna Bianco
Joan Anna Bianco, age 76, of Asbury, NJ joined the Heavenly Scrabble Club with a glass of Chardonnay, Maryland lump crab cakes, and "homemade" brownies on Saturday, July 22, 2017 at 7:32am. As a world traveler, she embarked on her new journey with an outfit for every occasion supported by her husband William Bianco;children Chris Bianco and his wife Judy Bianco, KarenBianco Corsale and her husband Dr. John Corsale "My Favorite Son-in-Law"; grandchildren Tanya Bianco, Galina Bianco, and Martha Corsale; grandpup Luigi Corsale; and grandcat Moka Bianco.
Born November 21, 1940 to the late Al and Stella (Krammer) Traub in New York City, the place where she always returned for her "city fix" and visited her late brother Stephen Traub and late sister-in-law Laura Traub. While working at the Bronx Zoo, she met her future husband William (Bill) through double introductions from Bill's mother and his friend. She gradually migrated "west" to Yonkers, NY, Clifton, NJ, Parsippany, NJ and retired in bucolic Union Township, NJ amongst daily wildlife but snow birded to Litchfield by the Sea, SC which will be her final earthly destination amongst the sand, sea, sunsets, and "sundowners".
A service of celebration is planned for Saturday, July 29, 2017 from Noon til 3pm at Martin Funeral Home, 1761 Route 31, Clinton NJ 08809 followed by a "Bma" style reception where all will be well fed and festive at Chris and Judy's home, site of her retirement party as Executive Assistant to the President of the Seeing Eye. Daughter of a photographer, her vast collection of photo albums shall be displayed for reminiscing. With Joan's help we may catch a glimpse of balloons soaring overhead from the neighboring balloon festival which she enjoyed.
In lieu of flowers, donations may be made through, IN MEMORY OF, for the Seeing Eye Foundation at www.inmemoryof-memorial.org
Her first three Scrabble word plays: Food scores 8, Family scores 14 but Love is priceless.
For further information or to share memories with the family please visit www.martinfh.com