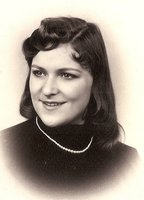 Patricia Anne Jones
Patricia Anne Jones, age 76, of Dresden, TN formerly of Scotch Plains NJ, died Tuesday, September 19, 2017 at the Hillview Community Living Center in Dresden, TN. Patricia was born April 18, 1941 in Plainfield NJ. She is the daughter of the late Robert and the late Helene (Gurginski) Jones.
She was a graduate of Scotch Plains-Fanwood High School class of 1959. Pat worked as a secretary for the Plainfield and Westfield school recreation department for many years before she left over forty years ago to enjoy the southern living she loved so well with her extended family in Tennessee over forty years ago. Patricia was a family oriented person who always loved the family reunions that were held throughout the years.
Pat had great faith and enjoyed teaching Sunday school for many years.
Surviving are her brother: Bob Jones III and wife Carol of Clinton Twp, sister Roxanne Overton of High Bridge NJ, and many nieces and nephews. Her brother William Jones predeceased her.
A private graveside service will be held at 11:30 am on Friday, September 22 at Lake Nelson Memorial Park, 606 South Randolphville Road, Piscataway, NJ with Rev. Philip Carr-Jones officiating. Arrangements are under the care of Martin Funeral Home 1761 Route 31, Clinton NJ 08809.
In lieu of flowers, donations in memory of Patricia may be made to the Hillview Community Living Center, 897 Evergreen Street, Dresden TN 38225.