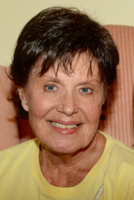 Joyce R. Burke
Joyce R. Burke, age 74, of High Bridge NJ died peacefully surrounded by her husband and children on Tuesday, September 19, 2017 at the Hunterdon Medical Center. Joyce was born May 15, 1943 in Camden, NJ. She is the daughter of the late Harry and the late Rita (Magee) Foulke.
Joyce grew up in Pennsauken NJ, where she met and married her husband Robert G. Burke on January 18, 1964. Together they moved to High Bridge, NJ in 1978. She was a very active member of the High Bridge Rescue Squad as an EMT for over twenty-five years, acting as President and Treasurer for numerous terms.
Joyce was a true Elvis fanatic and Bruce Springsteen fan, she loved visiting Disney World with her husband and family and also the Grand Canyon where they made numerous trips. Joyce also enjoyed scuba diving and riding the Clydesdale Horses at Willow Grove Farm and Stables in Califon NJ. Her favorite horse was Bronson.
She is survived by her devoted and loving husband: Robert G. Burke, daughter: Karen Santarelli (Christopher) of West Deptford, NJ and two sons: Robert Burke (Lori) of Harmony, NJ and Michael Burke (Kim) of Great Meadows, NJ; sisters: Rita Franck (Richard) of Newark, DE, Cheryl Foulke of Bellmawr, NJ, and Linda Santarelli (Evo) of Mantua, NJ; also surviving are her adored grandchildren: Matthew, Brianna, Dominic, Rebecca, Victoria, Ethan, and Rogan.
Relatives and friends may gather on Sunday September 24, 2017 from 1:00pm until 3:00pm at the Martin Funeral Home, 1761 Route 31, Clinton, NJ. Service and blessing and the Rescue Squad Last Call will begin at 3:00pm at the funeral home following the visitation. A private cremation will follow all services on Monday, September 25, 2017.
In lieu of flowers, donations may be made IN MEMORY OF Joyce Burke to the High Bridge Emergency Squad, Station 14 at www.hbes.org