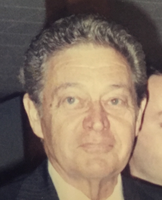 Joseph B. Muenzen
Joseph B. Muenzen, of Middletown, NJ, passed away peacefully on November 2, 2017 after a long illness. Joe was born March 21, 1925 in Hackensack, NJ and grew up in Bergenfield. He was the son of Wendell J. and Louise (Wurtz), and the brother of Reverend Roland W., Ruth (Ruff), and Jean (Seidel), all who have predeceased him. He attended St. Cecilia's HS in Teaneck and Fordham University in the Bronx. His matriculation there was interrupted by the call of duty to his country in WWII, when he enlisted to serve his country honorably in the US Navy, first in the Air Corps and then as a corpsman. He resumed his studies at Fordham, graduating with a degree in chemistry in 1947.
While an undergraduate at Fordham, he met the raison d'etre of his life, Patricia T. McCarthy, then a doctoral student in his department. In a lasting bond that withstood some of the most strenuous forces, their chemistry took them over the sixty years of marriage and nine children. Joseph P., of Providence, RI, Mary L. Repetti (Drew) of Middletown, Dr. Christopher P. (Diane)of Long Valley, Patrick W. of Brooklyn, Barbara T. (Dr. Tom Daniel) of La Jolla, CA, Colette of Stamford, CT, Paul J. of Regensburg, Germany, Peter E. of London, England, and Gregory T. (Leslie) of Katonah, NY, as well as ten grandchildren, Elizabeth and Alison Muenzen, Katherine,
Margaret, and Daniel Repetti, Christopher, Gregory, Karl and Reid Muenzen, and Giulia Muenzen.
After college he was employed by Merck, Sharpe and Dohme in oncology research, and then at Rutgers University working in the cancer research and institution that he would subsequently return to for a cure of the same fifty-five years later. He then held various positions in sales and marketing for Fisher Scientific, and then Wang Labs, achieving national status in both companies for his efforts. He then developed his own scientific sales company before retiring to Clinton, NJ and Cape Cod, MA in 1989, where he had summered with his family for over thirty years.
He was an avid pilot, golfer and gardener. He was active in local politics and Boy Scouts in Rahway, NJ, where he raised his family, and in the Holy Name Society of St. Ann's Parish in Hampton, NJ, from where he will be buried. He was above all else devoted to his wife, Pat, who predeceased him in 2013, and to his family for over thirty years.
Friends and relatives may gather on Sunday November 5, from 3:00pm until 7:00pm at the Martin Funeral Home, 1761 Route 31, Clinton NJ 08809. A mass of Christian Burial will be offered on Monday November 6, at 10:00am at The Church of St. Ann, 6 Church Street, Hampton NJ 08827. Interment will follow in the church cemetery. For further information or to send words of condolence please visit www.martinfh.com