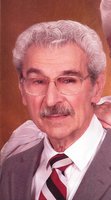 Charles Joseph Montrose
Charles Joseph Montrose, age 89, of Hampton NJ, formerly of Oakland NJ died Friday, November 10, 2017 at Virtua Memorial Hospital, in Mount Holly, NJ. Charles was born June 27, 1928 in Paterson, NJ. He is the son of the late Charles Montrose and Rose (Giella) Montrose.
He was a member of the National Guard for seven years during the Korean Conflict. He worked for many years with the DuMontand Motorola companies in radio electronics.
Charles was a devout Catholic who was a founding member of Our Lady of Perpetual Help Church in Oakland, NJ. He attended mass there with his wife for over 50 years. He recently has been a parishioner at St. Ann's Church, in Hampton, NJ.
Charles met the love of his life, Aurelia Cracco, at a school dance at the YMCA, while he and Aurelia were in high school. They married on August 6, 1950 and were married for 67 years.
Charles enjoyed scratch building birdhouses which were very ornate. A fan of the NY Mets and Oakland Raiders, he also enjoyed traveling the world with his beloved wife, Aurelia.
Along with his wife, Charles is survived by his daughter, Maria Sakos and her husband Christopher; his son, Michael and his wife Andrea; his son, Charles and his wife Gail; brothers, Franklin and Patrick. Also surviving are his grandchildren Michelle, James, Jonathan, Christopher, Vincent, Renee, Jessica, Charles and Veronica and twelve great grandchildren.
Relatives and friends may gather on Friday November 17, from 2:00pm until 4:00pm and again from 7:00pm until 9:00pm at the Martin Funeral Home, 1761 Route 31, Clinton NJ 08809. A Mass of Christian burial will be offered at 10:00 am on Saturday, November 18th at The Church Of St. Ann, 6 Church Street, Hampton, NJ. Burial will follow in the church cemetery.
In lieu of flowers donations in Charles' name may be made through IN MEMORY OF for the PIME Missionaries at www.inmemoryof-memorial.org