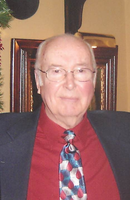 Joseph C. Rankl
Joseph Carl Rankl of Clinton, formerly of Matawan and Colts Neck, passed away on November 20, 2017. A lifelong resident of New Jersey, Joe graduated from Nutley High School. Joe began his career with Weyerhaeuser Lumber Company as a logger in Idaho and participated in the development of Weyerhauser's modular home business.
Joe later partnered with his lifelong friend and brother-in-law Russ Weber to form Rankl & Weber Realty and Builders in Matawan. Together they designed, built and sold countless homes throughout Monmouth and Middlesex Counties. Joe was a partner in the Dungeon Restaurant and later owned and operated J.R.'s Bar and Restaurant in Matawan. After moving to Hunterdon County, Joe owned and operated Sherlock Homes Builders with business partner Vito Esposito, and later worked at Prudential Realty in Clinton.
Joe had a lifelong love of home design and construction. An avid skier, Joe introduced his family to skiing, and enjoyed countless hours skiing with his children, grandchildren, family and the Clinton Ski Club, throughout the United States, Canada and Europe. Joe also enjoyed trap and skeet shooting with the Clinton Gun Club.
Joe is survived by his wife of 31 years, Mary Ann Lingsch; son James Rankl and wife Susan of Carson City, Nevada; and daughter Laura Rankl-O'Reilly and husband Tom of Colts Neck, New Jersey. Joe is also survived by his sister Barbara Weber and husband Russ of Old Bridge, New Jersey; and brother Robert Rankl and wife Sandy of West Palm Beach, Florida, as well as his loving grandchildren, Abigail Rankl, Jackie O'Reilly, Katie O'Reilly and Thomas O'Reilly. Joe is predeceased by his son Joseph "Jody" Rankl, sister Peggy Rankl, and granddaughter Elizabeth Rankl.
A Celebration of Joe's life will be held on Saturday April 28th, 2018 at 11:00am at the Calvary Episcopal Church, 44 Broad Street, Flemington NJ 08822. Funeral arrangements are under the care of Martin Funeral Home, Clinton, NJ. For further information or to send condolences to the family, please visit www. martinfh.com.