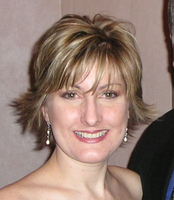 Kirsten Keil Barton
Kirsten Keil Barton, age 50, of Alexandria Township passed away peacefully with her family by her side after a lengthy illness in Doylestown Hospital, Doylestown, PA. Kirsten was born in Willingboro, NJ on May 13, 1967. She is the loving daughter of Alfred and Joan (Hall) Keil of Alexandria Township.
Kirsten was a 1985 graduate of John F. Kennedy high school in Willingboro, and a 1990 graduate of Boston University. Upon graduation she worked as a programmer for Sun Life Financial, Wellesley, MA and later for Citi Street Financial in Quincy, MA.
In addition to her parents, she is survived by her sister, Erika Babcock and her husband Robert, and her much loved nephew and niece, Douglas and Sarah Babcock of Alexandria Township. She is also survived by James Barton who she married in 1994.
Among her many joys were rooting for New England sports teams (particularly the Red Sox and the Patriots) – as well as loving, playing, and caring for her two dogs Sydney and Bailey.
Family and friends may gather on Monday, December 4 from 10:00 am until 11:00 am at the Martin Funeral Home, 1761 Route 31, Clinton, NJ. A funeral service will be held at 11:00 am at the funeral home following the gathering. Burial will follow at Locust Grove Cemetery in Quakertown.
In lieu of flowers, donations in Kirsten's name can be made to the Joslin Diabetes Center in Boston, MA or the Quakertown Volunteer EMS in Pittstown, NJ.