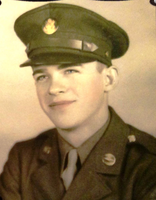 Henry "Hank" Freyer
Henry (Hank) Freyer 93, of Northampton PA, formerly of Clinton NJ, passed peacefully on Friday December 22, 2017 at his home with his children by his side. Henry was born in Copper Hill, NJ on June 21, 1924 and was the son of the late Edward J. and Auguste H. Freyer. Henry graduated from Flemington High School Class of 1941.
Henry was a veteran of WWII having served with the 3rd Armored Division in the European Theater of Operations through France, Belgium, and Germany as General Court Martial Stenographer. Henry lived in Clinton for many years and was a former member of the Common Council of the Town of Clinton and past-president of the Clinton Fire Dept. He retired in 1989 from the State of NJDMV where he served as an investigator. Henry retired to Kreidersville PA in 1990.
Henry was a member of the Flemington American Legion Post #149; Charter member and Charter Organist of the Flemington Elks Lodge #1928; Lehigh Valley Region of the Antique Automobile Club of America; Allen Twps. PA Fire Dept.; Safety First Volunteer Fire Co., Easton, PA; and Blue Mountain Antique Gas & Steam Engine Association. He played piano and organ in the Lake Hopatcong, Budd Lake, Phillipsburg and Clinton areas for many years.
He was preceded in death by his wife, Carolyn Hope McCrea Freyer who died in 1996. They were married fifty years on June 21, 1996.
Henry is survived by his 3 children, daughters, Sandra (Robert) Maxwell of Nazareth, PA; Sharon Dysart of Clinton, NJ; and son Henry (Maria) Freyer of Clinton, NJ. He is also survived by 6 grandchildren, 12 great-grandchildren, and 7 great- great-grandchildren.
Relatives and friends are invited to gather on Tuesday December 26, from 5:00pm until 7:00pm with a Firemen's Service at 6:30pm, at the Martin Funeral Home, 1761 Route 31, Clinton NJ 08809. A funeral service will be held on Wednesday December 27, at 11:00am at the funeral home. Interment will military honors will follow at the Riverside Cemetery in Clinton.
In lieu of flowers donations in Hank's name may be made through IN MEMORY OF, for the Clinton Fire Department at www.inmemoryof-memorial.org
For further information or to offer words of condolence to the family please visit www.martinfh.com