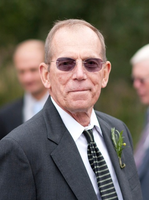 Michael S. Bellai
Michael Bellai, of Pittstown, NJ, lost his valiant battle with cancer on Monday December 25, 2017 with his loving family by his side.
Born August 21, 1946, to John and Carol Thompson Bellai of Bernardsville, NJ, Michael spent his early years trying to stay out of trouble. He met his wife of 50 years – Dale Alt Bellai – at a high school dance and together they have two daughters – Cynthia Bellai Wyszynski (Michael) of Norwood, CO and Amy Bellai Williams (Ryan) of Nazareth, PA.
Before Michael and Dale got married on December 30, 1967, Michael served a tour of duty in Vietnam, starting in the First Infantry Division and completing his tour with the Company A First Aviation Battalion. He returned home and became a member of Steamfitters Local Union #475. He was a member of the Union for 45 years, before his retirement in 2008.
Michael was a dedicated father, never missing a recital, play, or band performance, and was a member of the Del Val Band Boosters for many years. He was also a well-seasoned traveler and enjoyed spending time both in the mountains and on the ocean.
Michael was the epitome of Courage and Positivity, tackling every challenge he faced head on. He was an inspiration to all who knew him.
Along with his wife and children, Michael is survived by his granddaughter Shannon Wyszynski of Norwood, CO, his sister Carol Jean Aubry of Myrtle Beach, SC, his father-in-law Adam Alt, Jr., and a plethora of beloved nieces, nephews, cousins, sisters-in-law, and brothers-in-law.
Relatives and friends may gather on Friday morning December 29, 2017 from 10:00am until the start of the service at 12:00pm at the Martin Funeral Home, 1761 Route 31, Clinton NJ 08809
In lieu of flowers, donations may be made to IN MEMORY OF, for the Hunterdon Hematology Oncology, LLC at the Hunterdon Regional Cancer Center or Hunterdon Hospice/Hunterdon Healthcare at www.inmemory-memorial.org. The family wishes to thank all the doctors, nurses, and aides who helped Michael through his illness. While he is gone from his mortal suffering, he will never be gone from our hearts.