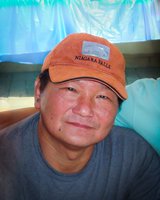 Tossapon "John" Miles
Tossapon "John" Miles, age 54, of Hampton NJ died Friday, December 22, 2017 at Compassionate Care Hospice in Dover, NJ. Tossapon was born April 5, 1963 in Thailand. He is the son of Watana Miles and Edgar Eugene Miles.
He was employed with the Somerset Hills School District. He enjoyed watching football games and movies with his family. John had a caring heart and always put others needs ahead of his own, he will be truly missed by all who knew him.
Relatives and friends may gather to celebrate John's life on Monday, January 8 from 4:00 pm until 7:00 pm at the Martin Funeral Home, 1761 Route 31, Clinton, NJ 08809.