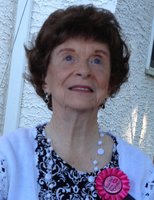 Mary R. Casey
Mary Regina Casey, 94, of Annandale, NJ, formerly of Edison, NJ, passed peacefully on Saturday January 6, 2018 at her home with her children by her side. Mary was born in Philadelphia, PA on September 8, 1923 and was the daughter of the late Francis Gallagher and Helen Gallagher.
A proud mother and grandmother, Mary was a consummate homemaker and enjoyed spending time with her family and friends. Mary had an unwavering faith in God and was a member of Immaculate Conception Church. For over 17 years, Mary was a dedicated hospital volunteer at JFK Medical Center, Edison, NJ, where she warmly greeted patients and visitors.
Mary was predeceased by her loving husband of 47 years , Francis J. Casey Jr. She was also predeceased by her son, Sean M. Casey. Mary is survived by her sister Betty Costanza; sons Francis J. Casey, III, and his wife Kathy; Michael D. Casey and his wife Nancy; and Thomas D. Casey and his wife Janine; and her daughter Mary Lou Casey. She is also survived by twelve grandchildren: Melissa Casey, Timothy Casey, Meghan Santowasso, Dennis Casey, Bridget Casey, Michael Casey, Jr., Kevin Casey, Kelli Arnette, Caitlin Rubinstein, Emeline Casey, Liam Casey and Aidan Casey; and ten great-grandchildren, Carly Marotta, Quinn Marotta, Layla Marotta, Brody Marotta, Raymond Abney, Riley Santowasso, Will Santowasso, Zoey Santowasso, Kosta Casey and Casey Arnette.
The family offers everyone who cared for Mary, including the staff and volunteers of Hunterdon Hospice and Immaculate Conception Church, their greatest gratitude. Memorial donations in Mary's name may be made through IN MEMORY OF for Hunterdon Hospice or Immaculate Conception Church, at www.inmemoryof-memorial.org
Be still and know that I am God. Psalm 46:10
The family will greet friends from 6:00 pm until 8:00 pm on Tuesday, January 9, 2018 at Martin Funeral Home, 1761 Route 31, Clinton, NJ 08809. Mass of Christian Burial for Mary Regina Casey, will be offered at 10:00 a.m. Wednesday, January 10, 2018 at Immaculate Conception Church, 316 Old Allerton Rd, Annandale, NJ. Burial will be at Resurrection Cemetery, 899 E Lincoln Ave, Piscataway Township, NJ.