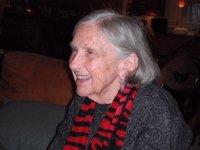 Evelyn Walters
Evelyn Walters, age 91, formerly of Hampton NJ died Sunday, January 21, 2018 at St. Luke's Warren Hospital in Phillipsburg, NJ. Evelyn was born December 12, 1926 in Queens, NY, . She is the daughter of the late Edward and the late Barbara (Weghorn) Dukes.
Previously from Rosedale NY, Evelyn and her family have resided in the Hunterdon County area since 1978. She received her Bachelor of Arts Degree from Queens College and later her Masters of Education from The College of New Jersey. Evelyn worked as a Special Education school teacher with the NJ State School in Clinton for fifteen years.
A devoted wife, mother, grandmother and great grandmother. She is preceded in death by her husband Les.
Evelyn is survived by one daughter: Mary and sons: Michael, Joseph and Peter. Nephews; Kenneth, Steven and Christopher; Niece Melissa; and 8 Grandchildren and 1 Great Grandchild.
Friends and relatives may gather on Monday January 22, from 4:00 until 8:00pm at the Martin Funeral Home,1761 Route 31, Clinton NJ 08809. A Mass of Christian burial will be offered onTuesday January 23, 2018 at 10:00am at The Church of St. Ann, 6 Church St., Hampton, NJ with Rev. Fr. Michael Saharic officiating. Burial will follow in St. Ann's Church Cemetery