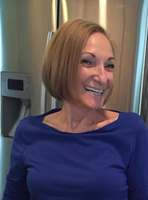 Barbara J. Pearson
Barbara J. Pearson, age 62, of Pittstown, NJ formerly of Secaucus NJ and Stony Point NY, passed peacefully on Thursday, February 1, 2018 at the Hunterdon Medical Center after a long, courageous battle with cancer. Barbara was born December 27, 1955 in Brooklyn, NY. She is the devoted daughter of Donald and Cornelia Mihalich.
Barbara enjoyed a successful career in multi-media advertising. Fiercely independent, her passion for life included travel, cooking, music and a love of animals. Her family was everything to her. Compassionate of heart and soul, she was a source of love and strength to all those she touched.
Along with her parents Donald and Cornelia Mihalich, Barbara is survived by her beloved son Robert Pearson, sister Denise Santangelo and her husband Tony and nephews Michael and Brandon.
A celebration of Barbara's life will be held at a later date, cremation services were held privately under the care of Martin Funeral Home, 1761 Route 31, Clinton NJ 08809. To share memories with the family or to send words of condolence please visit www.martinfh.com.