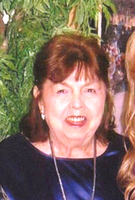 Linda "Joann" Drella
Linda "Joann" Drella, age 75, of Phillipsburg NJ formerly of Branchburg and South Plainfield, NJ died Sunday, February 4, 2018 at the Phillipsburg Care Center in Phillipsburg, NJ. Lindawas born January 2, 1943 in Waco, TX. She is the daughter of the late Frank and the late Margaret (DeFrees) Reynolds.
Joann loved spending time with her family, and friends and had numerous careers including owning a deli with her mother and sister for 10 years. She also spent many years in real estate, working in a family business. She loved a spirited debate on many topics, and many family occasions were boisterous because of it! She loved to paint and draw, and her room always had her proudest pieces displayed. In her younger days she golfed, played in a ponytail softball league, and greatly enjoyed square dancing.
Joann is survived by her loving daughter Jacqueline Granski , son in law Gene Torres, beloved sister Jeanette Keleher and her husband William O. Keleher; niece Beth Harding and her husband Dale Harding; nephew Louis Keleher and his wife Debbie Keleher. Also surviving are numerous nieces andnephews whom she adored, and they loved their "Aunt Joann".
Friends and relatives are invited to gather with the family on Friday, February 9 from 4:00 until 8:00 pm at the Martin Funeral Home, 1761 Route 31, Clinton, NJ 08809. A private family entombment will follow on Saturday February 10, at the Woodbridge Memorial Gardens, in Woodbridge NJ.
To share memories with the family or to send words of condolence please visit www.martinfh.com