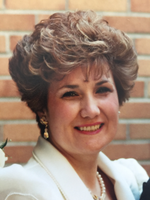 Nicolina M. Miceli
Nicolina M. Miceli, age 72, of Clinton, NJ passed peacefully with her husband and son by her side on Tuesday, February 20, 2018 at home. Nicolina was born August 5, 1945 in Cattolica Sicily . She is the daughter of the late Dominick Grassia and Maria (Farrugia) Yanetta.
Born in Italy, Lina was raised in Brooklyn and the Bronx New York, she attended St. John's University and achieved her Masters in Education from Seton Hall University. Marrying her love of her life Joseph on August 6, 1966 only to give birth to her beloved and cherished son David on August 6, 1972.
Lina enjoyed a rewarding career as a Guidance Counselor for the Piscataway High school, earning the 1994 NJ School Counselor Association, " Counselor of the Year" and also the 1987 Middlesex County Guidance Counselor Service award.
Nicolina was a very devout and faithful catholic, a member of the Immaculate Conception Rosary Society and a very active parishoner.
Nicolina is survived by her one and only true love her husband: Joseph Miceli; one son: David Miceli and wife Cindy of Annandale, NJ; her mother Maria (Farrugia) Yanetta; Sister: Mary and her husband Charlie; her Grandchildren, Ryan, Rebecca, and Danielle; Nephews, Michael, Paul, Carmine, Peter and Jack; Nieces , Linda, Diana, Francis; Sister In Laws, Margie and Theresa.
Friends and relatives are invited to gather on Thursday February 22, 2018 from 2:00 - 4:00 pm and 6:00- 8:00 pm at the Martin Funeral Home 1761 Route 31, Clinton, NJ 08809. A mass of Christian Burial will be offered on Friday February 23, 2018 at 12:00pm at the Immaculate Conception Church, 316 Old Allerton Road, Annandale NJ 08801. Interment will follow in the church cemetery.
In lieu of flowers and other spiritual bouqets, donations in Nicolina's name may be made through
IN MEMORY OF for the St. Jude Children Research Hospital at www.inmemoryof-memorial.org