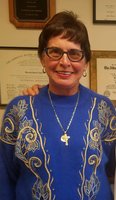 Margaret Jean "Mary" Bitecola
Margaret "Mary" Jean Bitecola, 74, of Hampton, N.J. formerly of Boonton, NJ, Toms River, N.J. and Rochester, N.Y. passed away on Sunday, March 11, 2018 at Hunterdon Medical Center. She lived on a tree farm in Walworth, New York one of seven children. Margaret went to school in Walworth and Ontario and graduated from Wayne Central High School in Ontario, New York. Upon graduation, she entered a convent (Sisters of the Sorrowful Mother) in Denville, N.J. where she stayed for approximately 20 years. While there she obtained her LPN and also was trained to provide counsel to patients in a nearby hospitals. She left the convent just prior to her marriage to Daniel Bitecola. They were married for 27 years, before he passed in July, 2015.
She led a very diverse and interesting life and remained devout throughout her 74 years. She loved creating quilts and often could be found putting together jewelry. She was a very generous person, never afraid of hard work inside and outside of the home. She was also very religious, as She went to church every day and loved to share her ministry with the world. She was also a Lay Carmelite. She kept close to her family, church friends and prayer groups.
Mary is survived by Sisters, Ann Maynard and her husband Paul, Karen Paprocki and her husband Paul, Helen Pfromer and her husband Don ; brothers, Michael Burger and his wife JoAnn, John Burger and his wife Leone; Her sister Jean Dobler predeceased her; a stepson Dan Bitecola and wife Joan, a stepdaughter Donna Leuzzi and husband Marty; a step grandson Cliff Bitecola and wife Janeen, Greg Leuzzi and wife Serafina, Dan Bitecola III and wife Melanie, step grandaughter Laura Burke and husband John; She also has 9 step great grandchilren, and don't forget canines Tonka and Daisy.
Family and friends are invited to gather on Wednesday March 14, 2018 from 5:00 pm until 8:00 pm at the Martin Funeral Home, 1761 Route 31, Clinton, NJ 08809. A mass of Christian Burial will be offered on Thursday March 15, at 10:00am at The Church of St. Ann, 6 Church Street, Hampton NJ 08827. Entombment will follow at 1:00pm at The Madonna Cemetery and Mausoleum 2070 Hoefley's Lane, Fort Lee NJ 07024.
In lieu of flowers donation's in Mary's name may be made through IN MEMORY OF, for the American Cancer Society at www.inmemoryof-memorial.org