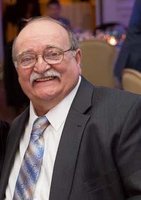 Richard Anthony Sepe
Richard Anthony Sepe, age 72, passed away peacefully on Saturday, March 24, 2018. He was born on May 15, 1945, in Queens, New York, to the late Jennie and Louis Sepe. Richard was married to his loving wife, Maureen (DeLiso) Sepe for fifty years. In 1978, Richard and Maureen and their two children, Louis and Michele, moved to Lebanon Township, Hunterdon County, where he resided for nearly forty years.
Richard proudly served in the U.S. Navy during the Vietnam War aboard the USS Intrepid where he earned several honors including a Bronze Star, Vietnam Service Medal, and National Defense Service Medal. Richard was a printer by trade and, prior to his illness, was a volunteer for CASA where he advocated for children's rights. He was a member of St. John Neumann's Church where he enjoyed delivering food to families in need and visiting with elderly members of the community. In his spare time, Richard loved spending time outdoors, especially fishing with his twin brother, Robert. He also enjoyed painting scenic landscapes and spending time with family and friends. Richard cherished being with his four grandchildren whom he adored, and loved attending all their various activities and special events.
Richard is survived by his devoted wife, Maureen; his son, Louis and his wife, Deborah; his daughter, Michele Petrie, and her husband Michael; granddaughter, Caroline; grandsons Richard, Alexander, and Michael; siblings, Fred (Anne), Johanna (Walter), Robert, and Mary Ann (Alan). Richard will also be forever remembered by his numerous nieces, nephews, extended family, and dear friends for his great gift of bringing laughter and joy, his great sense of humor, and his caring ways.
Relatives and friends will be received at the Martin Funeral Home, 1761 Rt. 31, Clinton NJ, 08809, on Tuesday, March 27, 2018, from 2:00 pm – 4:00 pm & 6:00 pm - 8:00 pm. A Mass of Christian Burial will be held at Saint John Neumann's Catholic Church in Califon, NJ, on Wednesday, March 28, 2018 at 10:00 am.
To share memories with the family or for further information please visit, www.martinfh.com. Memorial contributions in Richard's memory may be made through IN MEMORY OF for Saint Jude Children's Research Hospital at www.inmemoryof-memorial.org