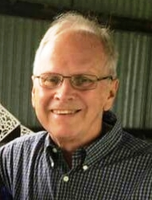 Lawrence "Larry" Johanson
Lawrence John Johanson 72 of Cape May Courthouse NJ and High Bridge NJ, passed on Sunday March 25, 2018. Born May 12, 1945 in Brooklyn New York to Cora and Anton Johanson.
Larry graduated from Bound Brook High School in 1963 with honors and was a member of the National Honor Society. In 1968 he graduated from Upsala College with a B.S. in Mathematics. He was a founding member of Ka Ba Alif Fraternity, affectionately known as the "Camel Drivers Fraternity".
Upon graduating college, Larry enlisted in the Army, serving as a Computer Programmer for 2 years in Korea during the Viet Nam War. After his tour he settled in Southern California where he was an assistant principal of a Middle School for a couple of years.
His return to New Jersey began his long commercial insurance career originally with Clark Agency. Larry was often referred to as "the guy who knew everything about commercial insurance" and was sought as an expert in complex coverage and claims particulars. He worked in the business for over 40 years until his retirement from Hagedorn Insurance Brokerage in Manhattan.
Larry married Cheryl Johanson in 1978 settling in High Bridge NJ where they raised two daughters. Rachel and Meredith were the loves of his life and he was a proud and devoted Dad. He served as Deacon of the Reformed Church of Annandale NJ and also as a Councilman in High Bridge NJ.
Larry eventually retired to his home in Cape May Courthouse New Jersey. He became bored in retirement and took a part time job with Home Depot. A true patriot, he enjoyed his service as a member of the Stone Harbor American Legion.
While not at work Larry enjoyed golfing, cycling, surfing, fishing and motorcycling. He was always an avid gardener, producing traffic stopping garden displays.
In addition to his daughters Larry is survived by his wife Cheryl Johanson; mother Cora Johanson, brother Ron Johanson and partner Joyce Lang; sister Karin Fleck and husband Dennis Fleck; his nephews Karl and Jonathon Fleck, His nieces Kali Johanson-Lang Po, Audrey Huizing and Bridget Huizing and cousin Janine Iversen. He was also very proud to have grand nephews Gunnar and Nolan Johanson.
A Celebration of Larry's Life will be held on Wednesday April 4, 2018 from 6:00 until 8:00pm at the Martin Funeral Home, 1761n Route 31, Clinton NJ 08809. Reflections of Larry's Life will start at 8:00pm followed by Military Honors from the US Army.
The family kindly asks to please omit flowers. Contributions in lieu of flowers may be made to IN MEMORY OF for the American legion Stephen C. Ludlam Post 331 at www.inmemoryof-memorial.org