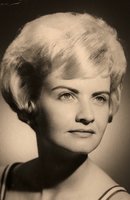 Shirley Luce
Shirley Ware Luce of Warminster, PA, formerly of Clinton Township, NJ passed away peacefully on March 26, 2018. She was age 82.
Mrs. Luce was born in International Falls, Minnesota, on August 31, 1935. As a youngster her family resettled in Klamath Falls, Oregon and she graduated from Klamath Union High School in 1953. In 1955, she moved to Los Angeles, CA to be with her sister Deloris Ware Spaulding and accepted a secretary position with Alcoa. In 1960, she met William Luce, of Plainfield, NJ, who had transferred to a sales position in same Alcoa office. They were soon married in Pasadena, CA in 1961 before moving to Pittsburgh, PA where the couple's two children were born.
The family moved to Clinton Township, New Jersey in 1978. Both children graduated from North Hunterdon Regional High School. Mrs. Luce retired in 1997 after 14 years of service as a secretary in the engineering department of The New Jersey Water Supply Authority in Hunterdon County. In September, 2017, the couple moved to the Ann's Choice Retirement Community in Warminster, PA.
Mrs. Luce enjoyed spending time with friends & family, visiting the local shops, going to the Jersey shore, attending Broadway shows, traveling and lunching with the ladies. Surviving are her husband, William Shotwell Luce; daughter, Kimberly Ann of Oakland, CA; son, David Donald and his wife, Julie, of Southampton, NY; and nine nieces and nephews.
A memorial service will be held on Monday, April 2nd at 12:00 PM at Martin Funeral Home, 1761 Route 31, Clinton, NJ 08809.