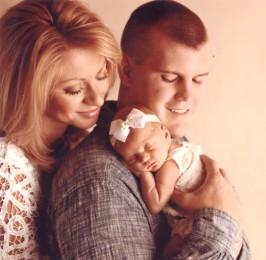 In Memory of
Kristin N. Thorsen
1987 - 2017
Obituary of Kristin Thorsen
Kristin N. Thorsen 30, of Washington, NJ passed away Friday, June 2, 2017.
Kristin was born in Hackettstown, NJ and resided in Glen Gardner, NJ for 26 years before moving to Washington, NJ with her husband, Michael Thorsen in 2013. Kristin graduated from Lock Haven University with a Bachelors Degree in Recreation Management. During her time there, she was a member of the Woman's Softball and Dance Teams of which the softball team achieved great success as Regional and National champions. After graduation, Kristin chose a career path in the fitness industry and most recently in the social services industry. She was passionate about working with those individuals who needed help the most.
Kristin was so very much loved and cherished. She was an inspiration to her family and friends and those who came in contact with her, whether it was through her professional or personal life. Her love, kindness, selflessness and friendships were admired by all who knew her. Her amazing glow and beautiful smile were characteristics that people often associated themselves with and how much she could light up the room with her presence. Whatever involvement or interaction she had with people, she always walked away with new friendships and loving thoughts.
Kristin had many things she enjoyed doing and was passionate about, hiking, working out, attending concerts to name a few but most of all just being with family and friends. However, her greatest joy was being with her beautiful daughter, Kayden.
She is survived by her loving and devoted husband of four years, Michael Thorsen, ten month old daughter, Kayden Grace Thorsen, mother and father, Kelly and William Schoenig, brother Corey Schoenig of Glen Gardner, NJ, grandfather William Schoenig, grandmother Anna McComb, mother and father in-law Ruthann and Doug Thorsen, sister and brother in law Allison and Matthew Faraone, brother and sister in law Doug and Marissa Thorsen and four nieces and nephews, Avery, Jared, Greyson and Alaina.
Friends and relatives are invited to gather in support of the family and pay tribute to Kristin on Thursday June 8, 2017 from 4:00pm until 8:00pm at the Martin Funeral Home, 1761 Route 31, Clinton NJ 08809. A mass of Christian Burial will be offered on Friday June 9th at 10:30am at St. Joseph's Church, 200 Carlton Avenue, Washington NJ 07882. Everyone is asked to please meet directly at church on the morning of the funeral.
In lieu of flowers, a memorial scholarship fund has been setup for Kristin and Mike's daughter, Kayden Grace, through IN MEMORY OF at www.inmemoryof-memorial.org
1761 State Route 31
Clinton, NJ 08809
Phone: (908) 735-7180
Christopher Knoll - Manager, NJ License Number: 4460
Martin Funeral Home proudly serves Clinton NJ and the following surrounding communities of: Clinton Twp, Annandale, Lebanon, Lebanon Twp, Glen Gardner, Tewksbury, Flemington,
Raritan Twp, Readington, Alexandria Twp, Pittstown, Delaware Twp, Asbury and Hampton New Jersey