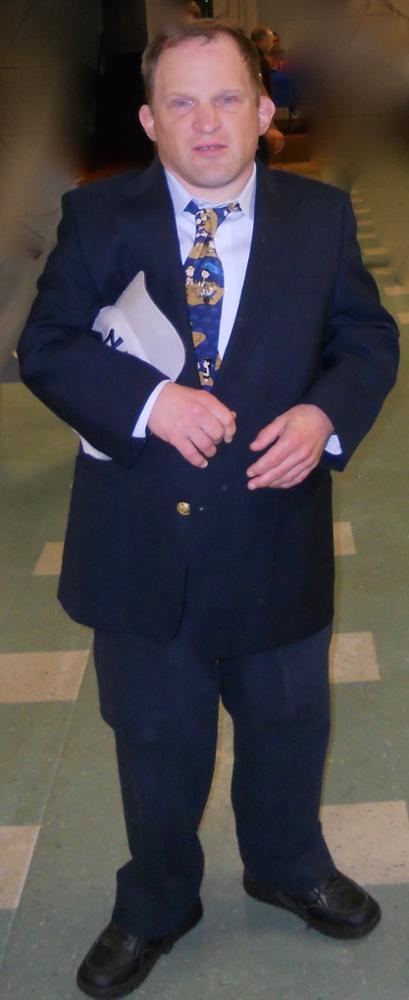 In Memory of
Scott D. "Scotty" VanderVliet
1971 - 2017
Obituary of Scott VanderVliet
Scott D. "Scotty" VanderVliet, age 45, of Rocky Hill passed away Wednesday, June 14, 2017 at Princeton Medical Center. Scott was born October 26, 1971 in Easton, PA. to Donald and Olga (Beck) VanderVliet.
Scotty started at Eden Institute in Princeton NJ as their 1stpreschool student, and graduated in 1992. Scott resided at the Eden Adult Services, Noonan House, since 2002. He was employed by the Eden Work Day Program, where he enjoyed many different types of employment.
Scotty loved people and doing everything with others. He enjoyed skiing since he was 9 years old and loved participating in the Special Olympics Winter Ski Program. Scott loves vacations at the beach, trips to the boardwalk, and a good party. He always loved playing with his slinkies.
He is survived by his loving and devoted mom and dad Olga and Donald VanderVliet of Mansfield Twp; one sister: Wendy Billig and her husband Rick of Hardwick, NJ; Aunt Pat; Aunt Pam; Aunt Cheryl and Uncle Tom; and many cousins. He willalso be missed by his housemates, Eden staff, and his many friends.
He was predeceased by his Grandparents, Margaret and Jacob VanderVliet; Ethel and Keith Beck; Aunts and Uncles Jackie and Bob Vosselman; Keith Beck; Jack and Elaine VanderVliet; and cousin, Jack VanderVliet.
A gathering of friends and family will be held on Monday, June 19 from 3:00 until 7:00 pm and also on Tuesday, June 20 from 10:00 am until the time of the service at 11:00 am.
A celebration of his life will be held at 11:00 am on Tuesday, June 20 at the Martin Funeral Home, 1761 Route 31, Clinton, NJ. Interment will follow at the Mountain View Cemetery on Cokesbury Road in Clinton Township.
The family is requesting that in lieu of flowers, donations in memory of Scotty may be made through IN MEMORY OF, for the Eden Adult Services Endowment Fund at www.inmemoryof-memorial.org or by donating directly to the Eden Adult Services Endowment Fund (Eden Autism Foundation, c/o The Development Office, 2 Merwick Road, Princeton, NJ 08540).
To share memories of Scotty with the family or to send condolences please visit www.martinfh.com
1761 State Route 31
Clinton, NJ 08809
Phone: (908) 735-7180
Christopher Knoll - Manager, NJ License Number: 4460
Martin Funeral Home proudly serves Clinton NJ and the following surrounding communities of: Clinton Twp, Annandale, Lebanon, Lebanon Twp, Glen Gardner, Tewksbury, Flemington,
Raritan Twp, Readington, Alexandria Twp, Pittstown, Delaware Twp, Asbury and Hampton New Jersey