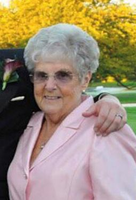 Theresa "Eileen" Blaney
Blaney, Theresa Eileen, age 86 of Annandale, N.J., formerly of St. Petersburg, FL and Somerset, N.J. passed away peacefully at her daughter Geri's home on June 26, 2019. Eileen was predeceased by her beloved husband Francis in 1982 and baby grandson Timothy M. Gibbons.
Eileen is survived by her five children, John Blaney (Teresa), Joanne Tallmadge (Jeffrey), Brian Blaney (Diane),Geri Gibbons and Eileen Gross (Dale). Also surviving are her adored grandchildren, Scott (Alicia), Meredith (Erik), Christopher (Krystle), Dana (Paul), Tommy (Nicholas), Dennis (Tori), Michael, Erin, Connor and Paige, four great grandchildren, and two great granddaughters on the way.
As per Eileen's wishes, arrangements are private. Her children will host a memorial luncheon shortly for friends and family to celebrate her life. Words of condolence may be sent to the family at www.martinfh.com. Arrangements were under the care of Martin Funeral Home, Clinton NJ