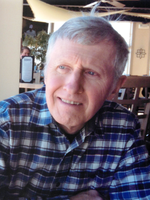 Richard C Bradlee, Jr
Richard Chadbourne Bradlee, Jr., of Pattenburg, NJ, passed peacefully on Tuesday, October 29, 2019 at Karen Ann Quinlan Hospice, with his loving wife by his side. Richard was born December 13,1948 in Providence, RI. He is the son of the late Vivian (Doudera) Bradlee.
Born and raised in East Providence, RI, he graduated from the University of Rhode Island in 1970 and went on to earn a Master's Degree in Computer Science from Stony Brook University. Richard moved his family to Hunterdon County in 1983 when he began his work at Bell Labs and then Bellcore. He continued working in systems development and quality testing until his retirement from Educational Testing Service seven years ago.
Early in his youth, through scouting, Richard developed a great love for the outdoors. He was proud to have achieved the honor of Eagle Scout. He enjoyed hiking, biking, and kayaking. He also loved the sport of rowing. During his college years, he was a coxswain in the URI crew. Since graduation, he became a sculler, and continued to row competitively throughout his life. He even taught rowing to novice scullers at several rowing clubs in the area. One of his signature accomplishments, however, was to design and build his "dream house," a place where he enjoyed gardening, landscaping, and many, many home projects. Always eager to learn new things, Richard recently pursued photography. He was both surprised and excited by his ability to capture the beauty of a sunset, an ocean wave, or a mountain trail. His love for music was deep as well. Richard played the trumpet since his youth, and continued to enjoy music until his last days.
Richard was a wonderful husband and a devoted father. He was a good man who will be dearly missed by us all.
Richard is survived by his wife, Sunday (Bosco) Bradlee; his daughter, Mollie Hope Bradlee of Denver, CO; his son,Scott Colin Bradlee of Los Angeles, CA; his brother Robert Stephen Bradlee and sister-in-law Tess Bradlee of Virginia Beach, VA; cousins, Pamela Brackett of Culpeper, VA and Philip Colwell and his wife Bonnie of Pinehurst, NC and also his nieces and nephew.
Relatives and friends may gather with the family on Sunday, November 3, 2019 from 2:00 pm until 5:00 pm at the Martin Funeral Home, 1761 Route 31, Clinton NJ 08809. A celebration of Richard's life will be held on Monday November 4, at 10:00 am at the funeral home. Interment will follow at the Greenwich Cemetery, Stewartsville NJ.
In lieu of flowers donations in Richard's name may be made through IN MEMORY OF for Princeton National Rowing Association, "Rowing is Growing" http://www.inmemof.org/richard-c-bradlee-jr