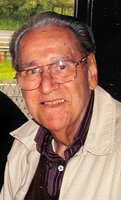 George Charles Bishop
George Charles Bishop, age 97, of Flemington, NJ, previously of Valhalla, NY and West Orange, NJ, died Wednesday, January 29, 2020 at home in Flemington. George was born October 31, 1922 in Newark, NJ. He was the son of the late George and the late Mary (Ostertag) Bishop. His beloved wife, Ann Grace (White) Bishop predeceased him on January 17, 2010.
He served in the US Navy during World War II from April 23, 1943 to May 31, 1946. He was employed by Texaco in Harrison, NY as a Benefits Advisor.
He is survived by three daughters: Maryanne Davies of Annandale, NJ; Marguerite Poles and her husband David of Doylestown, PA; and Katherine Gunnels and her husband Philip of Sugar Land, TX; and daughter-in-law Elizabeth Bishop of Doylestown, PA. Also surviving are his nine grandchildren and eight great-grandchildren and many nieces and nephews.
He was predeceased by his son, George John Bishop, on September 11, 2001, and son-in-law, Kenneth Davies, and his two sisters, Mildred and Margaret.
George was a member of the Holy Name Society, and an Usher and also a Eucharistic Minister. He enjoyed traveling and music, also loved being by the ocean. He was known as the "Puzzle Man" in his residency at Independence Manor. The family would also like to thank the staff at Independence Manor for the tremendous care that George received throughout the years.
Relatives and friends are invited to gather with the family on Tuesday, February 4 from 8:30 am to 9:30 am at Martin Funeral Home, 1761 Route 31, Clinton, NJ.
A Mass of Christian burial will be offered at 10:00 am on Tuesday, February 4 at Immaculate Conception Church, 316 Old Allerton Road, Annandale, NJ. Burial will follow in Gate of Heaven Cemetery, East Hanover NJ.
In lieu of flowers donations in George's memory may be made through IN MEMORY OF for the Hunterdon Hospice at http://www.inmemof.org/george-charles-bishop