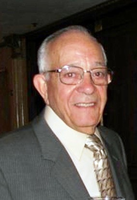 Frank J Sodano
Frank Sodano, age 94, of Washington passed away peacefully on Saturday, February 1, 2020 at home in Washington, NJ surrounded by family. Frank was born July 10, 1925 in Newark, NJ.
He is the son of the late Francesco and the late Edith (Ferro) Sodano. He married Rose F. Giaquinto, his loving wife of almost 70 years.
Frank was born and raised in Newark, NJ. He spent most of his life in Belleville, NJ. Frank and his wife were among the first residents of Hawke Pointe where they spent the past 17 years. They were longtime members of St. Ann's Parish in Hampton NJ. He had a career he loved as a jeweler for 50 years.
Frank served in the Navy during World War II from 1944 to1946. After World War II, he and his 2 brothers worked at American Jewelers in Newark, NJ. Frank went out on his own in 1980, to open J & R Jewelers located in Bloomfield, NJ. Frank was well known in his store & the community for going above and beyond and for treating customers like family.
Frank enjoyed spending his time with the Jewelers Bowlers League in Union, NJ for 50 years. He made many of wonderful friends and lifelong memories. Frank was also a very passionate gardener, a skill he generously shared with his children and grandchildren throughout his life. Frank and Rose were members of an UNO club with whom they traveled the country and abroad and shared many years of friendship and laughter.
He is predeceased by his brother, Anthony Sodano, sister Florence Tartaglia, sister Angelina Sodano, and sister Ann Sodano.
He is survived by his loving wife Rose F. (Giaquinto) Sodano; daughter Gail Angioletti and husband Anthony of Asbury, NJ; daughter Carole Dalton and husband Bill of Sparta, NJ; brother William Sodano, sister-in-law Rosemarie Giaquinto; grandchildren Nicole and husband Nicolo, Maria and husband Brian, Billy and wife Carly, Katrina and husband Alex; great-grandchildren Sofia, Amelia, Emily and Mario; as well as many loving nieces, nephews, and cousins. During his illness, he was lovingly cared for by his longtime aide, Althea Hyatt.
Relatives and friends are invited to gather with the family on Thursday, February 6, 2020 from 5:00pm until 8:00 pm. at Martin Funeral Home, Clinton, NJ 08809. A mass of Christian Burial will be held on February 7, at 10:00am At the Church of St. Ann's, 6 Church Street, Hampton, NJ. Interment will follow at Hollywood Memorial Park, Union NJ. Donations in Frank's name can be made through IN MEMORY OF to the VFW in Hackettstown, NJ at https://inmemof.org/frank-sodano