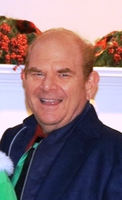 Warren James Evanko
Warren James Evanko, 53, of Lebanon Township, New Jersey, passed away at home with loving family by his side on Wednesday, February 12, 2020.
Warren was born June 6, 1966 in Plainfield, NJ to John and Sylvia Evanko and grew up the youngest of four boys in Colonia, NJ. He was a 1984 graduate of Colonia High School and attended Allegheny College in Meadville, PA where he graduated with a Bachelor of Economics. While at Allegheny he met his future wife Jennifer Bianco of Lakewood, OH and they were married in Cleveland on June 22, 1991.
Warren is survived by his wife Jennifer (Bianco) and his daughter Emily of New York, NY, son Colin, and son Jack, and his brothers Mark (Crystal) of Lambertville, NJ and Paul (Collette), also of Lebanon Township. He is predeceased by his parents John and Sylvia and brother Kevin (Sharon).
Warren's proudest accomplishment is the successful family he raised with his wife Jennifer. He took great joy in planning memorable trips and showing them the world, adventuring together to places like Iceland, Australia, New Zealand, the Bahamas off-islands, London, and Duck Key, FL for their annual Christmas trip. Most notably the family remembers volcano hiking, reef snorkeling, the Sydney Opera House mad dash, Ritz Carlton birthdays, and canal sunset cocktail hour in The Keys. His children and beloved nieces and nephews will carry these memories in their hearts forever.
Warren was a great dancer, and he particularly loved music by Mozart, music from the 1980's, and anything sung by his wife Jennifer ("if your friends don't dance…."). He shared his love of skiing with friends and family at "The Notch" establishing key competitive events that included downhill racing, on hill Easter egg hunts, tubing, celebratory bonfires, and even terrain park architecture. He loved to go boating, fishing, clamming, and spend time at the Jersey Shore and boardwalk. Warren was a member of Cars and Coffee where he and other car enthusiasts would discuss the latest trends. He was a gifted artist, with some of his works displayed in their home today.
He loved to entertain and spend time manicuring and improving his home, property and trail system. A gracious host, Warren will be remembered for his extravagant parties and traditions where he welcomed friends and family alike, providing not only fantastic food but also rambunctious caroling, hot air balloon rides, and fireworks displays just to name a few. The most recent event was the fabled Schnitzelbank, an annual family Christmas soiree for the ages.
Warren had over 25 years of supermarket, retail design, construction and corporate facilities experience, building and servicing infrastructure for Fortune 500 companies, as VP of Heartland Building Corporation. Although he was well versed in corporate construction, his favorite award was Most Accurate Refurbishment of a Victorian home in New Jersey.
Warren was a "larger than life" kind of guy. Everything he did was at full throttle, giving 150%, through creativity, generosity, and over the top ideas. Every present given was one you did not realize you wanted, but could not imagine letting go once received. Above all else, Warren was a man who put family first. With Warren, you are either "on the bus or off the bus" and you always "go big or go home".
He was loved by so many and will be missed dearly.
Friends and family may help celebrate Warren's life with a visitation at the Martin Funeral Home 1761 State Route 31, Clinton, NJ 08809 on Sunday, February 16, 2020 from 1:00 pm until 5:00 p.m. Funeral Service will be held on Monday, February 17, 2020 at 11:00 a.m. at Zion Lutheran Church 56 Old Turnpike Road, Oldwick, NJ 08858. Interment will follow at German Valley Rural Cemetery in Long Valley, NJ. For further information or to send words of condolence to the family please visit www.martinfh.com
In lieu of flowers, donations in Warrens name may be made through IN MEMORY OF, for the Zion Lutheran Church or Memorial Sloan Kettering Cancer Institute at https://inmemof.org/warren-james-evanko