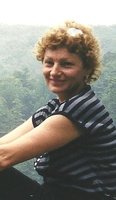 Elizabeth Kati Dudas
Elizabeth Kati Dudas passed peacefully at her home in Copperas Cove, Texas on June 21, 2020. She will be laid to rest next to her late husband, Fred Hutka.
Elizabeth was born in the small Hungarian town of Szemere along with her four siblings, of which she was the middle child. She moved to the United States in 1989 with her two young sons and became a long time resident of High Bridge, NJ while working at Computer Power and Glassman High Voltage. In 2014, Elizabeth retired to Texas for warmer weather and to help take care of her granddaughters.
Kati, as most people knew her, loved gardening, cooking and baking for her family, traveling and talking with people. She was a strong woman who always found ways to overcome difficulties and a loving and protective mother to her kids. She loved and is loved by her siblings, whom she was very close with, even when separated by an ocean.
Elizabeth Kati Dudas is survived by her two sons: Thomas and Richard, her siblings: Pista, Manci, Gizi, Ferri, their spouses and children.
Flowers are welcomed, or please make donations to Open Cupboard Food Pantry
in Clinton, NJ.
A graveside service will be held at Evergreen Cemetery in Clinton, NJ for friends and relatives on July 18, 2020 at 10:30 am.