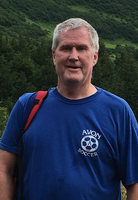 James Dow McCallum II
James Dow McCallum II of Bethlehem Township, New Jersey died unexpectedly on August 2, 2020, surrounded by his loving family. James, aged 63, was the son of Carolyn Stein McCallum of Kendall Park, New Jersey and the late William Lachlan McCallum.
Jim, as most people knew him, was a 1975 graduate of South Brunswick High School in South Brunswick, New Jersey. Following a year of study at Hope College in Michigan, Jim joined the military, serving his country in the United States Army as a laboratory technician stationed in El Paso, Texas. Following his discharge, Jim attended Rutgers University where he earned his B.A. degree. He subsequently earned a M.S.degree in psychology from United States International University in San Diego, California. A kind and caring individual, Jim volunteered with the United States Special Olympics and as an emergency medical technician with the Kendall Park First Aid Squad. He worked with at-risk youth in Connecticut and Massachusetts before obtaining a B.S. degree in nursing and later a M.S. degree in nursing from Rutgers University School of Nursing. He then earned his Family Nurse Practitioner certification.
Jim had a strong work ethic from an early age and received his greatest professional satisfaction serving as an emergency room nurse and as a Family Nurse Practitioner. A compassionate caregiver, Jim found fulfillment tending the sick and injured –combining his innate kindness with his nursing skills.
Jim's concern for others extended beyond medicine. Jim never considered it an inconvenience to stop and assist individuals stranded on the roadside or to invite the less fortunate to share a meal. He would even stop to assist turtles as they crossed the street. Simple acts of kindness were the norm for Jim.
Jim had a welcoming and accepting nature which allowed him to embrace life and all those in it. He enjoyed talking with people and learning about their experiences. He will be remembered by family and friends for his sincere interest in their well-being, his generosity of spirit, his ready smiles, and warm embraces.
Jim was a family man, especially devoted to his wife, their three sons, and his close friends. Jim faced many obstacles in his life. Perhaps it was overcoming these challenges which caused Jim to so deeply treasure the time he was able to share with others, whether it was cooking for them, exploring the outdoors, visiting historic or natural sites, or simply catching up on the telephone. Jim felt that connecting with people was always worth the effort.
Jim is survived by his wife, Myounghee Choi and their sons James, William and Russell; mother Carolyn; brother, William McCallum and his wife, Karen of Albuquerque, New Mexico and their daughter Kristin; and sister, Nancy McCallum Kostal and her husband, John of Avon, Connecticut and their sons George, Jack and Will.
Residing in the presence of the Lord now, he had no earthly fame, but his life of dedication, service to others, steadfastness, and love of family and mankind left an imprint on those fortunate enough to have known him.
A memorial service will be held at a future date when friends and family will have the opportunity to gather together safely.
In lieu of flowers, donations may be made in Jim's memory to the Emergency Nurses Foundation at www.ena.org or by mailing a donation to ENA Foundation, 930 E. Woodfield Road, Schaumburg, IL 60173. The mission of the ENA Foundation is to provide educational scholarships and research grants in the discipline of emergency nursing.
To send words of condolence to the family, please visit www.martinfh.com.