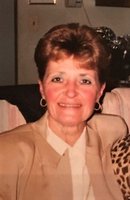 Doris Ellen Deeg
December 8, 1935 - October 11, 2020
Born Doris Ellen Uhouse on December 8, 1935, in Englewood, NJ. Doris grew up in Cliffside Park and graduated from Cliffside Park High School. She was a lifelong resident of New Jersey, residing in various locations including her beloved Sussex County. At the time of her passing, she was living in Flemington. Doris was a homemaker while raising her family and then worked at Bergen Pines Hospital for over 9 years. Over the next 10 years, she was a school bus aide for a special-needs student. Once retired, Doris volunteered in Newton Memorial Hospital for many years. She was also a member of the Hardyston Township Senior Citizens Group.
Doris was predeceased by her parents, Elizabeth (Silady) and Andrew Uhouse. Doris leaves behind her son, Ken Westlin and his wife, Kim, along with her grandchildren, Andrew, Alex and Griffin, all of whom loved her and will miss her dearly. Doris is also survived by a small group of family and friends that she had very close relationships with, including two cousins, Barbara Lengen and Robert Yuhas. In addition, she leaves behind a daughter, Karen Iacobellis (Steve), two other grandchildren, Jenna Zablow (Aaron) and Justin Iacobellis. She also had two great-grandchildren, Mason and Leo Zablow. She will be greatly missed by all who knew and loved her.
Spending time with her grandchildren was always a source of great happiness. Doris had a great love of animals. She loved watching Blue Bloods and NCIS and was an avid Yankees and Giants fan.
A memorial service will be scheduled for a later date. Donations in Doris' memory can be made to Catholic Charities or Hunterdon Hospice . Those with special memories of Doris are asked to share them in the obituary guest book. Please visit www.martinfh.com.