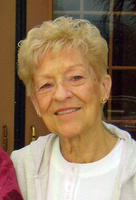 Frances Alfonso
Frances "Fran" D. Alfonso, 91, died peacefully on October 16, 2020 at All American Assisted Living in Hillsborough, NJ.
Born Frances Dlugolencki in Jersey City, NJ, on January 29, 1929, Ms. Alfonso worked her entire career for Blue Cross/Blue Shield of New Jersey in Newark and was promoted to a manager position before retiring in 1985. In 1992, she moved to The Villages in Lady Lake, FL. Fran returned to New Jersey in 2009 and lived in High Bridge before moving to Hillsborough in July, 2019.
Fran was considered a loyal friend by many, cultivating lasting relationships wherever she went.
Ms. Alfonso is predeceased by her husband, Anthony "Al" Alfonso; parents, Barney and Felicia "Fanny" Dlugolencki; brothers, Bernard "Ike" and Edward. She is survived by nephews and nieces, Lawrence and Phyllis Dlugolencki of Venice, FL, and Bernice and Darren Bellouny of High Bridge, NJ, and a great-niece, Leanne Bellouny.
A funeral service will be held at noon on Tuesday, October 20, 2020 at Holy Cross Cemetery in North Arlington, NJ. Your prayers in lieu of flowers are appreciated.