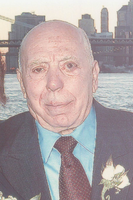 Antonio Rofrano
Antonio Rofrano, Beloved Husband, Father, Grandfather, Great Grandfather and Friend, passed away peacefully at his home on Sunday December 6, 2020, he was 92. Born in 1928 in Sant'Arsenio, Salerno Italy and he moved to New Jersey in 1966 with his immediate family.
Antonio was a devoted husband and father, he loved to gardening and making homemade wine.
Antonio is survived by his three cherished children, six grandchildren, four great-grand children, one brother, as well as many nieces, nephews, cousins, and friends. His sister predeceased him. He is extremely loved and will be profoundly missed, he will always live on in our hearts.
A private funeral mass will be held at Saint Catherine of Siena Church in Pittstown. Entombment will be held at Immaculate Conception Mausoleum.
In lieu of flowers donations in Antonio's name may be made to NORWESCAP food bank of NJ.