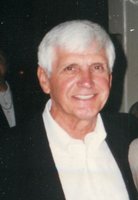 Robert J. Tomory
Robert J. Tomory, age 87, formerly a longtime resident of South River, died Monday, December 7, 2020 at the home of his daughter in Union Township, NJ. Robert was born March 26, 1933 in East Brunswick, NJ. He is the son of the late Peter and the late Esther (Pirigyi) Tomory.
Robert was a graduate of South River High School Class of 1952, he married the love of his life Olga Silvanovich on May 10, 1956, soon after he was drafted into the United States Army. He would return and start a forty-year career as an x-ray technician with DuPont, retiring at age 56. Robert was a South River Volunteer Fireman, Engine Co. #1.
After retiring, Robert would enjoy many years traveling with his beloved wife, especially to the island of Aruba. He also enjoyed freshwater trout fishing and watching the kayaks at Round Valley Reservoir, spending time with his family and Robert was also a self taught wood carver making many different types of birds and trees.
Robert is survived by his beloved wife of sixty-four years, Olga Tomory; daughter, LeeAnn Chiego and her husband James; granddaughters Carly and Julie Chiego; also surviving are many nieces and nephews. His brother Peter Tomory and sisters Eleanor Erickson, Helen Parillo and Esther Kulesza predeceased him.
All services will be held privately at this time under the care of Martin Funeral Home, Clinton, NJ. To send condolences to the family please visit www.martinfh.com
In lieu of flowers donations in Robert's name may be made through IN MEMORY OF for the Pattenburg Rescue Squad at http://www.inmemof.org/robert-j-tomory