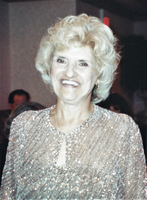 Karen Eileen Damiano
Karen Eileen Damiano, age 79, of Toms River, NJ, formerly of Newark and West Orange, NJ, died Monday, December 7, 2020 at the Jersey Shore Medical Center. Karen was born October 8, 1941, in Newark, NJ. She is the daughter of the late Henrietta (Wenzel) Neuwirth and her husband John.
Karen is a graduate of West Side High in Newark, NJ. She married, Samuel "Sonny", and together raised a daughter Jill. Karen spent her life as a homemaker. She was very active in her daughter's school, fundraising and a member of the PTA. Her two grandchildren, Julianna and Rocco III, were the world to her. She was a very proud and adoring grandmother.
Karen was quite a cook and baker. She was famous for her delicious cheesecake. Karen had a talent for sewing. She would make great Halloween costumes for her grandchildren and relatives. In her free time, Karen loved traveling, enjoyed time at the beach, and playing slots in Atlantic City.
Karen is survived by her daughter, Jill Palestina of Lebanon, NJ; and grandchildren, Julianna and Rocco III; nieces, nephew and cousins.
Karen is predeceased by her husband, Samuel Damiano; and her son-in-law Rocco Palestina Jr.
A mass of Christian burial will be offered on Saturday, December 12, 2020 at 10:00 am at the Immaculate Conception Church, 316 Old Allerton Road, Annandale NJ 08801. Due to the current COVID-19 restrictions, we encourage those who would like to attend to consider viewing the funeral mass via livestream. Entombment will be held privately at the Gate of Heaven Mausoleum in East Hanover NJ.
To view the funeral mass, please use this link https://livestream.com/aritonvideolive/damiano
In lieu of flowers, donations in Karen's name may be made to Open Cupboard Food Pantry http://opencupboardfoodpantry.org/ in Clinton, NJ