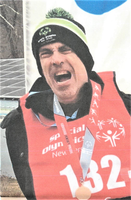 Glenn Alan Bunting
*** Due to Inclement Weather: All services for Glenn will now be held on Wednesday February 3, 2021 from 1:00 pm until 3:00 pm at Martin Funeral Home. Livestreaming of the service on Wednesday, will still be available. For any questions please feel free to call the Funeral Home. (908) 735-7180. Thank you ***
Glenn Alan Bunting, age 56, of Three Bridges, NJ, passed away Tuesday, January 26, 2021 at the Hunterdon Medical Center, Flemington, NJ. Born, October 5, 1964 in Somerville, NJ, he was the son of George A. Bunting and the late Eileen C. Bunting.
Glenn was a 1986 graduate of North Hunterdon High School. Glenn was a long-time member of the Arc in Hunterdon County. He enjoyed the outdoors and participated in many outdoor sports including cycling, skiing, and track & field. Glenn also liked to bowl. He had won several medals over the years for these activities through the Special Olympics. Glenn will always be remembered for his kindness and his ability to make people smile.
Glenn will be forever missed by his loving father, George A. Bunting; sister, Cheryl L. Hockenbury; brother, Steven A. Bunting; and step-mother, Margi Lagueras Bunting.
Glenn is predeceased by his beloved mother, Eileen C. Bunting; and step-mother, Diane F. Bunting.
Friends and relatives may gather with the family on Wenesday February 3rd, from 1:00 pm until 3:00 pm at the Martin Funeral Home, 1761 Route 31, Clinton, NJ 08809. Funeral Service will be conducted at 3:00pm by Life Celebrant Ruthann Disotell. Glenn will be laid to rest next to his mother Eileen, at the Union Cemetery in Clinton. We ask all that wish to attend to please wear a mask and follow COVID-19 restrictions.
Those who wish, may view the service via Livestream, Please Click Here for Livestream Service the service at 3:00 om on Wednesday.
In lieu of flowers, donations in Glenn's name may be made to the ARC of Hunterdon, 53 Frontage Road, Suite 150, Hampton, NJ 08827