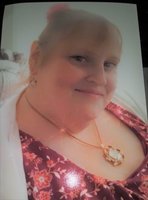 Karen Frances Degnan
Karen Frances Degnan, age 46, of Phillipsburg, NJ, passed away Monday, January 25, 2021 at St. Lukes Hospital- Warren County in Phillipsburg, NJ. She was born March 21, 1974 at Hunterdon Medical Center located in Flemington, NJ, to Patricia Smith-Semmel and Donald Woodhull.
Karen earned her Master's degree in Special Education in 2020 from Grand Canyon University. She was a member of Capa Delta Phi and Alpha Chi. She had a career as a home school tutor. Karen married her beloved husband, Joseph Thomas Degnan, on September 26, 2020. Karen loved spending time with her family, especially her son Miles. She often enjoyed reading, puzzles, crafting and DIY projects in her down time.
Karen is survived by her husband, Joseph Thomas Degnan; mother, Patricia Semmel and her husband Bob; father, Donald Woodhull; son, Miles Muccihello; sister, Courtney Lotsey; nephews, JD Wolski and Brayden Wolski; step-daughter, Grace Degnan.
Karen is predeceased by grandmother, Frances Woodhull; aunt, Sandy Smith; grandmother, Alice Smith; grandfather, Harry Smith; and uncle, Larry Smith.
A service of remembrance will held on Saturday February 6th at 11:00 am at the Bunnvale Assembly of God Church, 285 County Road 513, Glen Gardner, NJ 08826. Arrangements are under the care of Martin Funeral Home, Clintion, NJ. To send condolences to the family please visit www.martinfh.com