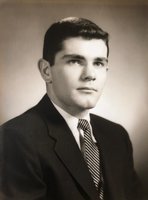 William Shotwell Luce
William Shotwell Luce, 86, formerly of Clinton Township, NJ, passed away peacefully on January 23, 2021 at Lantern Hill, a retirement community in New Providence, NJ. His son was by his side.
Bill was born March 18, 1934 in Plainfield, NJ. A 1952 graduate of Plainfield High, he was a varsity letter winner in wrestling and track & field. He attended Lehigh University where he received a Bachelor of Arts degree in 1956. Bill was a member and president of the Phi Gamma Delta fraternity. A dedicated Lehigh alumnus, Bill enjoyed attending sporting events, and calling classmates to encourage reunion turnout and fundraising.
After college, Bill served 2 years in the United States Army. His career started with the Alcoa Corporation, in Los Angeles, CA, where he met his future wife, Shirley Faye Ware. Married in 1961, they were transferred to Alcoa's home office in Pittsburgh. The Steel City was home for 16 years, where their 2 children were born and raised. He returned with his family to Hunterdon County, NJ in 1978, and resided there for 40 years.
In 1985, he founded Kaldave Associates Inc., a manufacturer's rep for several mid-Atlantic metal businesses, which he ran for 30 years until his retirement in 2015.
He was an avid golfer and a storyteller. He loved taking care of his property and continued cutting the grass well into his eighties. He and his wife loved socializing with family, fraternity brothers and neighbors. Bill was a true gentleman, filled with love, wisdom & humor, all complemented by his acute sense of fashion. He was a special friend to all he met, and the patriarch of his extended family.
Surviving is his daughter Kimberly Ann Luce of Oakland, CA; son David Donald Luce and wife Julie of New York City, NY; 5 nieces and nephews; and 8 great nieces and nephews.
He was predeceased by his beloved wife of 59 years, Shirley, parents Edith Shotwell Luce and Donald Cameron Luce Sr, sister Anne Luce DeAngelis, brother Donald Cameron Luce Jr.
A Memorial Service will be held at a later date. For more information or to send condolences to the family please visit www.martinfh.com. Arrangements are under the care of Martin Funeral Home, Clinton, NJ.