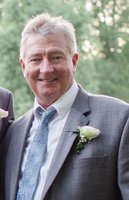 James F. Blaney
On January 28th, 2021, James Blaney, age 66, passed peacefully with his family by his side. He was born on January 8, 1955 in Brisbane, Australia. Jim lived in Ireland with his family until coming to Ridgefield, NJ when he was 5 years old.
Jim met his wife Brenda working as a Biochemistry professor at St. Joseph's Hospital in Patterson, NJ. Jim would recall the first time they met, and asked "who was that?!" when she left the room. They married and had two children. After leaving healthcare to pursue potential business opportunities, Jim came across two liquor stores for sale, which would cement his and Brenda's long-lasting legacy in the local community.
James and his wife, Brenda, are the proud owners of The Liquor Barn and Boro Liquors in Raritan, New Jersey for the past 32 years. Jim became a fixture in the Raritan community and knew all of his customers by name and what they purchased. Jim's extended family included his employees, salesmen and delivery drivers with whom he respected and was always personable with.
With his larger-than-life personality and gift of the gab, Jim had the ability to make an entire room burst into laughter and often took the spotlight at social gatherings, which everyone adored. Jim always made sure everyone's glasses were full and they ended up on the dance floor with him by the end of the night. Jim loved music and was able to recall what year the song was released, who he was with and would often share a story about where he was when he first heard it on the radio. The memory of his contagious laugh, quick wit and good humor will never be forgotten.
Jim was the son of Mary Blaney and the late William Blaney. Jim is survived by his wife Brenda and two children, Laura Crenshaw and Jimmy Blaney. Laura and her husband Michael have two children, Sloan and Jack. Jimmy is married to his wife Courtney. Jim will be remembered by his in-laws Cheryl and Joe Watkins and Denise and Bob Lloyd as well as his nieces Hope, Abby and Ali and nephews Nick, Scott and Jon. Jim is also survived by his sister Rosanna.
All services at this time will be held privately. To share memories, photos and stories with Jim's family please visit www.martinfh.com. In lieu of flowers donations in Jim's name may be made to Shriners Hospitals for Children. After his passing, Jim was able to donate to The New Jersey Sharing Network.