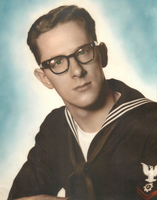 Ronald Arthur Haines
Ronald Arthur Haines, age 75, of Readington Township, NJ, passed Thursday, February 4, 2021 at Robert Wood Johnson Somerville Campus. Born December 24, 1945 in Somerville, NJ, he was the son of the late Robert Haines and the late Emma Dowches Haines.
Ronald was a 1963 graduate of North Hunterdon High School. Following high school, Ronald joined the US Navy during the Vietnam War. After proudly serving in the US Navy, Ron started his career with Steamfitters, Local 475 out of Warren NJ.
He was a member and Vice Commander of the American Legion Post 284 in Whitehouse, NJ. Ron was a true outdoorsman, he loved fishing, hunting and just being active outside but most of all he enjoyed being with his family.
Ronald will be forever missed by his daughters, Sonia Henely and her husband Brad, and Melinda Haines and her wife Jess Fishman; son, Ronald Haines and his wife Amy; grandchildren, Evelyn Henely, Grace Henely, Orion Fishman-Haines, Lily Haines, Violet Haines, and Derick Haines; siblings, Dave Haines, Patricia Pickeral, and Roberta Mauro.
Relatives and friends may gather with Ron's family on Thursday, February 11, 2021 from 4:00 pm until 7:00 pm at the Martin Funeral Home, 1761 Route 31, Clinton, NJ 08809. Funeral services will be held on Friday February 12, at 1:00 pm at the funeral home. Interment with US Navy Honors will be held at Spruce Run Cemetery, Glen Gardner, NJ.
In lieu of flowers, donation's in Ronald's name may be made through IN MEMORY Of, for the American Legion Post 284, Please Click Here to Donate
*** Please note the time change for the service on Friday is now 1:00 pm at the Martin Funeral Home***