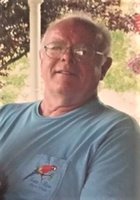 Joseph M Conry
Joseph Michael Conry, age 80, of Union Township, NJ, passed peacefully on Saturday, February 6, 2021 at the Hunterdon Medical Center. Joseph was born September 17, 1940 in Orange, NJ. He is the son of the late William Thomas and the late Ellen (Forkin) Conry.
Joe was a graduate of Union High School, Class of 1958. He married his beloved wife, Janet on November 4, 1967. A member of Electrician's Union, IBEW Local 52/164, Joe worked as a General Foreman at Acme Electric in Roselle, NJ, for thirty-four years.
An avid trap shooter, Joe won many trophies in his younger years. He was also a member of the Warren County Rod & Gun Club.
Joe found great enjoyment at his lake house in Maine, where he would fish, hunt or just float around the lake in his boat. When not at the lake house, Joe could be found tinkering in his workshop, where he enjoyed building many things out of wood or metal, such as birdhouses.
You could also find him on his 4-wheeler, driving one of his thirteen grandchildren around the farm. Joe was a true outdoorsman and will be greatly missed by his family.
Surviving is his beloved wife: Janet (Horton) Conry, two daughters: Linda Foor and Barbara Langan and husband Glen; five sons: Michael Conry and wife Dawn, Richard S. Foor and wife Prinie Ringland, Roger Foor and wife Carol, Kenneth Foor and partner Timothy Byrnes and Joseph Foor; two sisters: MaryEllen Conry Hannigan and Maureen Conry; thirteen grandchildren and five great-grandchildren; many nieces and nephews.
Joe is predeceased by his parents William T. Conry and Ellen Conry; brothers, his twin brother John, Bill and Gene; sisters Patricia Conry and Eileen Burke.
Relatives and friends are invited to gather with the family on Friday, February 12th from 5:00 pm until 8:00 pm at the Martin Funeral Home, 1761 Route 31,Clinton, NJ 08809. A Mass of Christian Burial will be offered at 10:00 am on Saturday, February 13th at Immaculate Conception Church, 316 Old Allerton Road, Annandale, NJ 08801. Interment will be held privately by the family Gate of Heaven Cemetery in East Hanover, NJ. To share memories with the family or to send words of condolence please visit www.martinfh.com
In lieu of flowers, donations in Joe's name may be made through IN MEMORY OF, for the St. Jude Children's Research Hospital,Please Click Here to Donate