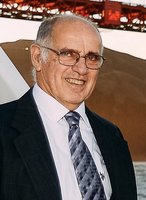 Leo Richard Hummer
Leo Richard Hummer, also known by many as Richard, age 79, of Union Township, NJ, died at home on Tuesday, March 2, 2021. He was born December 3, 1941 in Bloomsbury, NJ, the son of the late Paul and the late Catherine Hummer. Richard resided with the late Beatrice and the late Victor Hartz during his teenage years and became a graduate of North Hunterdon High School Class of 1962.
Richard began his service in the United States Army achieving Specialist 4th Class and being awarded the Good Conduct Medal. He then transferred to the Navy and was quickly promoted to Petty Officer 3rd Class. Richard fed all those aboard and ran the Chief's Mess on the USS Forrestal, and was awarded the National Defense Service Medal. After serving his country Richard attended the Culinary Institute at Yale University and went on to work as a chef for several years.
Richard then started Leo Richard Hummer Garage Doors, where he installed over ten thousand doors and serviced countless customers over 40 years. In addition to being passionate about his work, he continued his love of cooking throughout his life by preparing meals for family, friends, school fundraisers, and even an entire high school football team. He also loved to fish, play chess, garden, bake pies and make his own wine.
He is survived by his beloved wife: Marie (Pruznak) Hummer; daughter: Heather Cole and husband Andrew of Alexandria Township, NJ; three sons: Joseph Hummer and husband Ricky of Union City, NJ, Richard Hummer of Union Township, NJ, Christopher Hummer of Union Township, NJ; Stepsons, Charles, Robert and Kenneth Gettler; one sister: Doris Meixsell and husband Theodore; also surviving are his grandchildren, Caiden, Raechel, Tucker and Kendall.
Richard was the youngest of eleven children and was predeceased by nine siblings.
Relatives and friends may gather with the family on Monday, March 8 from 1:00 pm until 3:00 pm at the Martin Funeral Home, 1761 Route 31, Clinton, NJ 08809. Words of remembrance followed by Military Honors will start at 3:00 pm at the funeral home.
For further information or to send words of condolence please visit www.martinfh.com.
In lieu of flowers donations in Richard's name may be made to the Arc of Hunterdon County http://www.archunterdon.org/