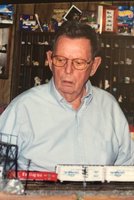 John Richard McCartney
John Richard McCartney, age 96, died on March 4, 2021. John was a lifelong resident of Bloomfield, NJ. He was a WWII army veteran and a Purple Heart recipient. He worked at Westinghouse for over 40 years.
His death was preceded by his lovely wife Jean McCartney (Morlock) who he loved to travel with. He is survived by his three children named John, Carol, Ruth, and his son-in-law, Ray. He is also survived by four grandchildren and one great-grandchild as well as his sister, Marion.
John is remembered for his love of trains, gardening, and telling war stories. He enjoyed sitting on the porch in LBI with his family while having some sweets. John was most known, however, for his kind and compassionate spirit.