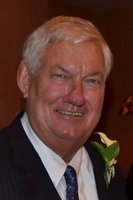 James G. Coe, Sr.
James G. Coe, Sr., 72, of Bethlehem Township, NJ passed away on Saturday February 27, 2021 at his home in Claudio, Brazil. He was born on March 1, 1948 in Plainfield and raised in Cranford.
Jim was a graduate of Roselle Catholic High School, SUNY College of Forestry, and Syracuse University. He also served in the US Marine Corps Reserves.
Jim went on to a distinguished career as a civil engineer at Killam Associates, serving many of New Jersey's municipalities and regional authorities as well as private clients. He worked at the firm (now known as Mott MacDonald) for 43 years before retiring as Executive Vice President in 2014. Jim was also a member of the New Jersey chapter of the Society of American Military Engineers.
Jim was married to the late Gail M. (Bierherr) Coe for 34 years until her death in 2012. They raised their family in Bethlehem Township, where he volunteered with the Bethlehem Township Booster Club and was a longtime parishioner of St. Ann's Catholic Church in Hampton.
He is survived by their children James G. Coe, Jr. and his wife Erica of Atlanta, GA, Kevin A. Coe and his fiancé Anaya Mortsea of Red Hill, PA, and Megan M. Coe also of Atlanta, GA, as well as his grandsons Theo, Myles, and Bodhi Coe.
In 2014, Jim married Gilma M. Alves Coe. Together they enjoyed retirement and "followed the summer," splitting time between their homes in New Jersey and Claudio. He is survived by Gilma and his stepchildren Anna Carolina DeSousa of Hershey, PA, and Robert DeSousa of Claudio, and his step-granddaughter Savannah Gonzalez.
He was predeceased by his parents Edward and Margaret (Murphy) Coe and a sister, Margaret M. Coe. He is survived by his siblings, Edward Coe of Salvador, Brazil, Richard Coe of Washington Crossing, PA, Kathleen Coe of Newtonville, MA and Harry Coe of Englishtown, NJ, and their spouses as well as many nieces and nephews.
Due to the COVID-19 pandemic, funeral services will be held privately at this time. However, the funeral may be viewed via live stream on Saturday March 13th at 11:00 am. Please click here Live Stream Link. A public celebration of Jim's life will be held at a later date. The family encourages Jim's family, friends, and acquaintances both new and old to provide their contact information at http://bit.ly/party4jim. Celebration details will be forthcoming.
In lieu of flowers, the family requests that donations be made to the Wounded Warrior Project, PO Box 758525, Topeka, KS 66675.