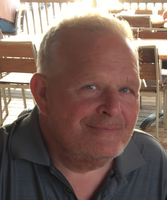 Stephen Logan Ferry
Stephen Logan Ferry passed away peacefully on March 21, 2021 after a brief illness. He was born on July 28, 1958 in Pompton Plains, New Jersey, and was the son of the late John S. Ferry and June (Logan) Ferry and was the fourth of their five children.
Steve was a 1976 graduate of Warren Hills Regional High School in Washington, New Jersey, where he played football, received a varsity letter for wrestling and was class treasurer. After high school he attended Lafayette College in Easton, Pennsylvania and Bethany College in Bethany, West Virginia.
Steve worked in heavy equipment parts sales, most recently as a crane parts specialist for 18 years at Hoffman Equipment in Piscataway. He was a member of Operating Engineers Local 825 for over 25 years.
In 1981 Steve married his high school classmate Lorraine, and together they raised three sons, Sean, Matthew and Daniel, who were his pride and joy. He was a devoted and loving husband to Lorraine and a hands-on dad, loving dad who participated actively in raising his children. In the 1990s he helped start up the High Bridge Youth Basketball recreation league, an organization still active in High Bridge today, and he coached basketball teams for each of his three sons in that league as well as Community Athletics in Clinton Township. He also helped start up the Hunterdon Heat AAU basketball league where he was also a coach, and he was a commissioner for Hunterdon Huskies Pop Warner football.
Steve shared a love of travel with his wife and family. He enjoyed trips abroad to Prague, Czech Republic, Spain, France, and Italy. He especially loved Newport, Rhode Island, Key West, Florida and Saratoga, New York; but his favorite trips were the ones he took with his sons – camping, fishing, the Jersey shore, baseball games in different cities and a family trip to Antigua. His other interests included fishing, gardening, cooking (he grilled THE best chicken wings) and music, especially rock, jazz and blues, and attending concerts and music festivals.
In addition to his wife and sons, Steve is survived by his mother June Ferry, his sister Blair Hysong, his sister Bridget Tomlinsonand her husband Roy, his brother Michael Ferry and his wife Jean, his brother John Ferry, his sister and brother-in-lawsJeannette Smith and her husband Barry, Fred Kleen and his wife Virginia, Greg Kleen and his wife Susanne, and Joyce Kleen and her husband Jerry. Steve was also very much loved by his nephews John Hysong, David Tomlinson, Michael Tomlinsonand Tim Kleen, and his cousins Ed Ferry and his wife Susan, Pete Ferry, Ellen Flynn and her husband Tom and their families.
Steve will also be missed terribly by the many friends he made throughout his life who loved his sense of humor, his infectious laugh and who describe him as down to earth and one of a kind.
While getting treatment for leukemia Steve encountered many young people who were also being treated for serious illness – it moved him and he said it gave him perspective. In lieu of flowers he wished for memorial donations to be made to St. Jude's Children's Hospital: Click Here to Donate
A celebration of life of Steve's life will be held in June for family and friends.