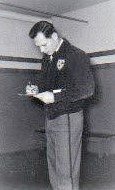 Ernest Anthony Monaco
Ernest Anthony Monaco, 85 of Milford, NJ passed on Sunday March 15, 2021 at the Morristown Medical Center. Born October 5, 1935 in Newark, NJ, he was the son of the late Salvatore and Rose Spallone Monaco.
He is predeceased by his sisters, Edith Brady, Yolanda Kasarda and his brothers Arthur and Armando Monaco.
Surviving are his beloved wife Joan Napurano Monaco; his five children and their spouses, Ernest and Marisa Monaco, Dr Joan Monaco and Dennis Crotty, John and Noreen Monaco, Dr Robert and Carolyn Monaco and Karl and Tara Monaco. Also surviving are his fourteen grandchildren; Ernest and Chloe Monaco, Gianna, Tina and Alanna Monaco-Crotty, Kara, Johnny, Kelly and Jenna Monaco, Antonio and Angelina Monaco, Kristie, Jaclyn and KJ Monaco.
Ernie was a graduate of Barringer High school and Panzer College and entered into the United States Army right after finishing his degree. Upon return to the states, he started his teaching career at Ann St. School in Newark. He married the love of his life Joan Napurano on June 25, 1961, together they started a beautiful family and raised five children.
Ernie had a well accomplished career as an Educator/Teacher in the Newark School System. He was Teacher of the Year for Newark and was nominated for the National USA Teacher of the year for New Jersey. Ernest was honored by the Mayor and Newark City Council twice, for his dedication to the city for the programs he ran and had a DAY named in his honor.
He was known to most as "Mr. Monaco" and was a renaissance man in so many ways. He continued to learn and help others throughout his life by staying true to his philosophical approach to educating both the mind and body and training individuals at the highest level in multiple sports. Even in the recent years, his commitment to helping and educating continued through vehicles like facebook, where his students and friends continued to stay connected and join him in his pursuit for excellence.
His family continues his legacy in helping others achieve their goals with two doctors, three educators and coaches.
Services were held privately by the family under the care of Martin Funeral Home, Clinton, NJ. A memorial Service and Celebration of his life will be held in the spring; date to be announced later.