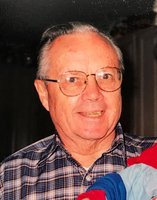 John P. "Jack" Crilly
On Wednesday, April 21, 2021, with his children holding his hands, John "Jack" P. Crilly, age 92, was called home by God. Surrounded by his loving family, Jack peacefully entered the gates of Heaven where his cherished wife, Kathleen, was waiting for him.
Jack's Life Celebration will include visitation on Monday, April 26, 2021, from 4:00 pm until
7:00 pm at Martin Funeral Home, 1761 Route 31, Clinton, NJ. Mass of Christian Burial will be offered on Tuesday, April 27, 2021, at 10:00 am at Immaculate Conception R.C. Church, 316 Old Allerton Rd., Annandale, NJ 08809, (908) 735-7319. The interment will immediately follow the Funeral Mass at the Immaculate Conception Cemetery on the church grounds. For online condolences, or for more information, please visit www.martinfh.com.
Jack was born on May 13, 1928, in the South Bronx, NY. He was the son of the late Joseph and the late Mary (Brennan) Crilly, who both emigrated from Sligo, Ireland. Jack dearly loved his twin sister, Anne (Crilly) Murphy, who predeceased him. Jack and Anne also had two brothers, Francis and Joseph, who both predeceased them at early ages. Jack's father, Joseph, was a New York policeman while his mother Mary raised their children. With strong Irish family values and Catholic faith, Jack and his siblings were raised on Vyse Avenue, Bronx, NY.
Before their loving marriage of 60 years, Jack and his wife, Kathleen grew up together as young children on Vyse Avenue in the South Bronx. They were raised as neighbors living next door to each other. Jack and Kathleen's brother were close boy-hood friends. Both families were parishioners of St. John Chrysostom Church in the Bronx, where Jack was an altar boy, and they also attended elementary school together at St. John's.
Jack attended Cardinal Hayes High School, Bronx, NY, graduating in 1945. He went on to attend Fordham University earning a BS in Government Studies. He was a four-year Varsity Swim Team member breaking school records with his fourth year as Team Captain. Graduating with honors from Fordham University in 1949, he thereafter attended Fordham Law School where he was Decisions Editor of the Law Review and earned his Juris Doctorate. Jack was later admitted to the New York and New Jersey Bar and the Federal District Court of New York and New Jersey.
Many summers were spent enjoying the surf, sand and sun at South Beach, Staten Island, NY where Jack and his family had a bungalow. Jack and his brother shared the same summer passion when they worked together as Lifeguards at South Beach.
Just after completing Law School, Jack was drafted into the Korean War serving in the U.S. Army, 7th Infantry Division from 1952 through 1954. After being trained for Quarter Master, Jack served as First Class intelligence and reconnaissance specialist and ran the reconnaissance controls. Proud to serve his country, Jack performed special missions and combat patrol at night. As Sergeant First Class, Jack was awarded the CIB of Combat Infantry Men's Badge, the Purple Heart, the Bronze Star and several Theater Ribbons.
Jack married his beloved Kathleen on January 23, 1954. Kathleen knew that the love of her life was Jack and had such faith in God that Jack would return safely from the Korean War that she mailed their wedding invitations before he was home. Kathleen was the Research Librarian of Fordham University and also a Legislative Reference Librarian for the Library of Congress.
Specializing in litigation and corporate mergers and acquisitions, Jack worked for several Wall Street Law Firms, including Mendes & Mount and Lundgren, Lincoln & McDaniel. In 1961, Jack joined Exxon Corporation as Senior Counsel with Exxon's Research & Engineering division until his retirement in 1993 as Exxon's Assistant General Counsel. During his distinguished career at Exxon, he managed employment law matters, commercial and intellectual property, labor relations, civil litigation and international transactions.
After living in Mt. Vernon, NY, for a few years, Kathleen and Jack, along with Kathleen's mother, moved to Mountainside, NJ, in 1964, where they raised their three children, Mary, John and Joe. Jack and his family were active parishioners at Our Lady of Lourdes Parish in Mountainside where Jack and Kathleen were instrumental in bringing Renew and other Youth programs to the parish.
One of Jack's passions was providing legal counsel and supporting community projects. He assisted in the creation of state-funded day care centers in Elizabeth, NJ. Never backing down from supporting and defending Constitutional rights, Jack served as pro-bono defense counsel in many cases, including the historic Plainfield riots. Jack could frequently be found in a Courtroom advocating for family and friends with vigorous and sometimes "creative" legal arguments.
Jack loved swimming at the Mountainside Community Pool in the summers, playing tennis with friends and sharing meals, conversation and laughter with a beloved dinner group of close friends. Never a day went by where Jack did not have a book in his hands. His avid reading spanned American history, murder mysteries, Irish literature and history, and Catholic theology. Reading to his grandchildren and story time at the library was special moments for him.
Enjoying retirement, Jack and Kathleen moved to Whitehouse Station (Readington Township), NJ, in 2003, and they joined Our Lady of Lourdes parish. Celebrating their love of Ireland, history and their families, Jack and Kathleen visited Ireland several times and researched their ancestry.
Known as "Pa", God blessed Jack with seven cherished grandchildren who were his pride and joy. Pa delighted in spending time with his grandchildren and celebrating their accomplishments.
Jack is survived by, his daughter, Mary Iazzetta & her husband, Carmen, his sons; John C. Crilly & his wife, Dianne and Joseph F. Crilly & his wife, Michelle, his deeply cherished grandchildren; Christopher, Kate, Jack, Maura, Tara, Joe and Sean along with many loved nieces & nephews & friends. Jack was pre-deceased by his beloved wife Kathleen, his twin sister Anne (Crilly) Murphy and her husband George Murphy along with his brothers Francis and Joseph.
For memorial donations, please consider:
The Gary Sinise Foundation supporting veterans and first responders with a cognitive health and mental wellness network providing transformative care. Please Click Here to Donate
For online condolences or for more information, please visit www.martinfh.com