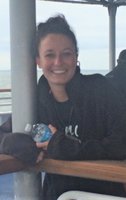 Kristin Taylor Casey
Kristin Taylor Casey, 27, of Bethlehem Township, passed on Thursday May 6, 2021. It is with great sadness and heavy hearts, that the Casey family announce the passing of Kristin, who will forever and lovingly be remembered as a daughter, sister, granddaughter, family member, and a friend whose infectious smile made you smile.

Born in Hunterdon County, Kristin embraced her love of the outdoors, including hiking and camping around an open fire. She often reminisced of happy memories spent with family on Hilton Head Island, riding bikes and playing mini golf. In her free time Kristin enjoyed sharing her creative side through arts & crafts and singing off tune to her favorite songs all the while making those around her smile.
She loved all animals and dreamed of being a marine biologist, and working with all types of animals. Skilled at driving heavy machinery she "wowed" many as she maneuvered in and out of many job sites.
A compassionate, caring, kind, fun loving, sensitive, and loyal to the core, Kristin will be deeply missed by her father Michael, her identical twin sister Kelly, her sisters Lindsey & Lauren, brother Michael, Grandma Casey, Grandma & Pop Caskey, numerous aunts, uncles, and many friends. Kristin was predeceased by her mom, Judy, whom she will be reunited with in heaven.

A Celebration of Kristin's life will be held on Thursday, May 20th at 6:00 pm at the Mountain View Chalet, 154, NJ-173, Asbury NJ 08802.Arrangements are under the care of Martin Funeral Home, Clinton, NJ. For further information or to share memories with the family please visit www.martinfh.com

In lieu of flowers, donations in Kristin's memory may be made through IN MEMORY OF for, Common Sense for Animals or St. Hubert's Animal Hospital at www.inmemof.org