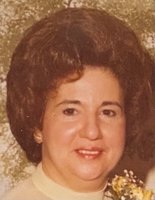 Angela Anello
Angela Anello, 92, a longtime resident of Clinton, NJ, passed away peacefully at Cross Keys Village in New Oxford, Pa, on Tuesday, May 7th.
Angela, the oldest daughter of the late John and Lillian Ciccarelli, was born on March 19, 1929 in Newark, NJ. Angela was sadly preceded in death by her loving and dear sister, Marie Nardo.

Prior to her marriage, Angela worked as a nurse's aide at St. Joseph's Hospital and also worked as a telephone operator at NJ Bell.

Angela married 'the love of her life' John Anello, while John was stationed at Davis-Monthan Air Force base in Tucson, AZ. After John completed his tour of duty, they moved back to Newark, NJ and a few years later settled in the historic town of Clinton, NJ where they happily raised their family.

Besides being a loving and devoted wife, mother and Nana, Angela worked at the Hunterdon State school and enjoyed a career as an Avon Representative. She was known for her caring and loving nature, and fabulous cooking. When visiting the Anello residence, you would always feel welcomed, and would never leave hungry.

Angela's loving husband John, passed away in 1994. Angela is survived by her five children (Laura Cousins, John Anello, Joseph Anello, Deborah Lerew, and Michael Anello) and their spouses (Thomas Cousins, Lauren Anello, Ronald Lerew, and Dianne Anello). Angela and John were also blessed with 7 Grandchildren (Sara Anello, John Anello, Beth Anello, Heather Cousins, Shawn Lerew, Michael Anello and Andrew Anello) and 4 Great Grandchildren (Arianna Anello, Jonathan Anello, and Emory and Grayson Zelenak). Angela was predeceased by her daughter in law Rose Anello.

Relatives and friends may gather with the family on Friday, May 21st from 4:00 pm until 7:00 pm at Martin Funeral Home, 1761 State Hwy 31, Clinton, New Jersey 08809. Mass of Christian Burial will be offered on Saturday, May 22nd at 9:00 am at Immaculate Conception Church, 316 Old Allerton Rd., Annandale, NJ. Interment will follow at Old St. Mary's Cemetery, Halstead Street, Clinton, NJ.
In lieu of flowers donations may be made through IN MEMORY OF for the St. Jude Children's Research Hospital, Please Click Here to Donate