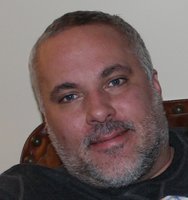 Jonathan R. Paridy
Jonathan R. Paridy, age 41, of UnionTownship, NJ passed away on Wednesday, May 26, 2021 at home. Born on January 25, 1980 in Bristol, PA, he is the son of Mark and Dianne (née Schmid) Paridy.
Jonathan met his beloved wife, Kelly Rush, while working at High Bridge Hills Golf Club. They married on July 16, 2010 and started a beautiful family with the additions of their two sons, Luke, 8, and Finn, 5.
Jon spent his early childhood years in Binghamton, NY before moving to High Bridge, NJ in elementary school. Jon quickly forged lifelong friendships with his peers in the High Bridge school system. He was a formidable competitor in the local soccer and baseball athletic leagues. Jon was a 1998 graduate of Voorhees High School and went on to achieve a Bachelor's Degree in English from Centenary College.
A notable virtue of Jon's was his sense of empathy, instilled in him by his mother, a long time teacher in the High Bridge school system. For 15 years Jon worked at Hunterdon Youth Services, a group home for at-risk youth. He left as a Program Supervisor to spend more time raising his sons.
Jon's mind was curious and inventive. His expansive imagination was fueled by a voracious reading appetite for many different genres of literature. Jon took great pride in composing haiku poems, some of which were selected for publication. In addition to his intellectual life, Jon loved the outdoors. He enjoyed kayaking on lakes and rivers and was an avid golfer. Afternoons on the links with his father were some of his favorite times.
Jon loved his sister Laura dearly, and she was one of his best friends. They enjoyed watching combat sports and attended many mixed martial arts competitions together. Jon and Laura spoke and spent time together often and were significant supports to one another.
Fatherhood brought out the very best in Jon and his sons absolutely adored him. Jon spent most of his time with Luke and Finn, kayaking, karate chopping, and passing on to them a sense of curiosity and big imagination. He was truly a family man; his wife and sons meant the world to him.
Surviving are his wife Kelly Paridy, sons Luke and Finn; parents Mark and Dianne Paridy; sister Laura Paridy and her fiance Montgomery Cox. Also surviving are many aunts, uncles, cousins, nieces, nephews, and friends.
Relatives and friends are invited to gather with the family on Monday May 31, 2021 from 1:00 pm until 3:00 pm at Martin Funeral Home, 1761 Route 31, Clinton NJ 08809.
All services will take place under the tent in the funeral home parking lot.
In lieu of flowers, donations in Jonathan's name may be made through IN MEMORY OF for Tunnels to Towers Foundation at www.inmemof.org