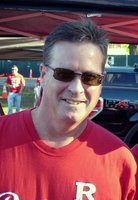 Wayne J. Hogrebe
Wayne Joseph Hogrebe died May 29, 2021 after courageously battling a brief illness. Born in Wilkes Barre, Pennsylvania on March 18, 1955, he was the son of Leonard and the late Roseann Hogrebe.
After graduating from Hillsborough High School in 1973, where he played football and baseball, he attended Cook College-Rutgers University. In 1977, Wayne graduated with a degree in Landscape Architecture and spent over 50 years working with his father and brothers in his family's business, Apple Tree Landscaping.
Having a passion for nature and the outdoors, Wayne used that talent to create countless, amazing, outdoor living spaces in surrounding Central New Jersey. He was a true artist and loved his work.
Wayne was a former coach for North Hunterdon Little League, Community Athletics and Clinton Township Recreation. His favorite pastime was watching his sons and their friends play sports.
As an avid tennis and volleyball player throughout his adult life, Wayne also enjoyed watching football, especially his alma mater, Rutgers. He also loved music and was a self-taught guitarist (although, even he'd admit, not a very good one!).
He is survived by wife, Donna, sons, Conner of Long Branch and Callen of Annandale and brothers, Greg, Richie and Billy, along with brothers Lenny and Kevin whom were predeceased.
Relatives and friends are invited to gather with the family on Tuesday June 1st from 4:00 pm until 7:00 pm at the Martin Funeral Home, 1761 Route 31, Clinton NJ 08809.
Wayne was a kind, generous, compassionate man and in lieu of flowers the family asks donations be made in his memory to the Flemington Area Food Pantry at 154 Route 31 North, P.O. Box 783, Flemington, NJ 08822 or Hunterdon Hospice, Attn: Margaret Doyle, Director, 215 Route 31 South, Flemington, NJ, 08822.